Posted by Mark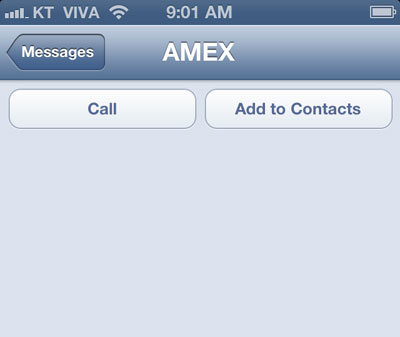 Not sure if only Kuwait is affected by this bug but a reader made me realize that if you have iOS6 installed on your phone and you try to open an SMS you've received from your bank, telecom operator, shipping company etc.. you'll get a blank message. Then, when you close the message it will disappear completely from your messages list.
The above picture is of a message I received from American Express, it showed as empty when I opened it and then when I clicked back it got deleted. The reader shot a YouTube video which shows this [Here]
That's pretty messed up.
Thanks Ahmad
Update: OK there is some good news here. New messages from your bank, telecom etc. will display in iOS6 normally. I just received one from Aramex now and it was fine. But old messages that were there before updating to iOS6 won't show.