Posted by Mark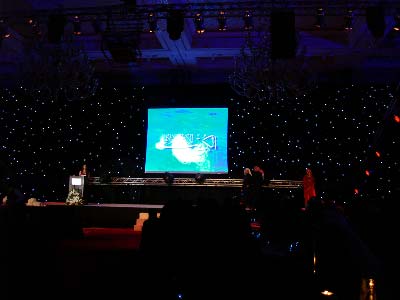 Just got back from the Kuwait Advertising Arab Awards, it was better then last years event but it was still extremely poor. The way the categories were divided and the way the ads were nominated didn't make any sense. Our agency submitted work to some categories for example but during tonights event those categories didn't exist. I heard the same feedback from other agencies who participated, everyone was just confused to what the hell was going on. The actual presentation of the awards was also a mess, they couldn't get the TV commercials playing right (how hard is it to press play and pause) and the woman announcer had the most cheesiest one liners. The event was also supposed to start at 7PM according to our tickets (which had a major mistake btw), but according to their website the event was supposed to start at 7:30PM but in reality the event actually started at 8. There were also less agencies participating this year probably because after last years fiasco no one wanted to be involved with the KAAA.
On a positive note the stage looked good, BUT it was a near copy of the KREA awards. Compare the picture above to the picture [Here]. Notice the starry backdrop?
Anyway my agency ended up collecting the most awards (I think), with a total of 12 bronze, silver and gold trophy's but it really doesn't mean much since the KAAA doesn't have any credibility internationally. One of my favorite TV commercials ever which was created by our Beirut office won a Gold in the food category. The version of the ad they played wasn't the one I liked though, it has a different soundtrack and editing so I figured I would share with everyone the version I like which I uploaded to YouTube a while back. The commercial was for the product Zwan, if you haven't checked it out you can by clicking [Here]. And thats it basically, I got to see a lot of old friends and I got to wear a suit so everything else didn't matter much. Hopefully next year I won't go.
update: here is another review of the event [Link]
update2: Just found out that they canceled one of our categories because we were the only ones who entered it. So according to the KAAA logic if you are successful and have no competition you can't win. Now lets play along with that for a moment, how about you call us and tell us that you canceled that category, at least then we could have told the client not to come to the event. No professionalism whatsoever.