Posted by Mark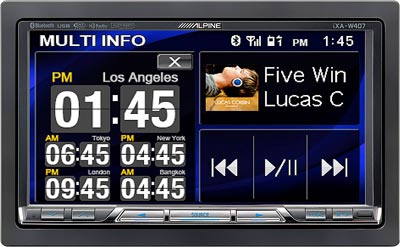 The Alpine iXA-W407 which I posted about a few days ago is supposed to sell for around $750 but for some reason it's being sold for just $379 on Amazon right now. I'm sure its a mistake so I quickly placed an order for one. If you're interested in it here is the [Link]
Update: I purchased the unit twice and both times the seller canceled my order. Did this happen to anyone else?
Update2: Price is back up now to $550. I placed an order for the fourth time and it seems to have worked now. $550 is still a good deal. I ordered the following items so far for my Toyota FJ install:
Alpine iXA-W407 Digital Media Station
Alpine HCE-C107D Rear View Camera
Peripheral PTR7 Multi control interface bypass module
Scosche TA2076B 2007 Toyota FJ ISO/Double DIN With Pocket Kit
Stereo Wire Harness Toyota FJ Cruiser 07 2007
The PTR7 will allow me to change the system settings and watch movies while the car is in motion and not just parked.
Update: I originally purchased the Scosche adapter for the Toyota FJ Cruiser but it turned out to be really crap and wouldn't fit the stereo right. I ended up installing the Alpine using the Metra adapter which worked out a lot better. Here is a link to it on Amazon. [Link]