Posted by Mark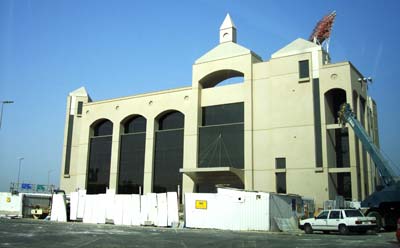 The Villa Moda warehouse which was originally located in the free trade zone recently moved to their Mubarakiya branch since they outgrew the original location. But, according to a Villa Moda employee by the end of September the Villa Moda warehouse will be moving to their new branch in Hawally. Many of you might have seen the building already, its next to the Qadsiya football stadium and originally was rumored to be a new Sultan Center. The new location is around 2000sq/m which is more than three times the size of the Mubarakiya branch but I think the building looks like crap and so very not Villa Moda like.
Update: Seems like they won't be moving…
Dear Mark & Others,

Thank you for your comments and views, they will be duly noted.

On behalf of Villa Moda I would like to announce we will not be moving to Qadsiya location or relocating the warehouse to any other site.

Since moving to the Mubarakiya store we have had a great response from our customers. Enjoying the ability to shop for vintage or previous season merchandise whilst being in a unique environment.

Thank you once again.