Posted by Mark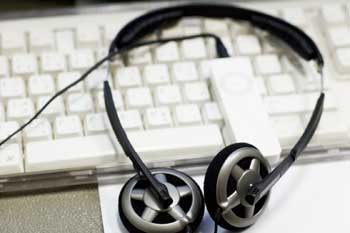 Choosing the right headphone is very difficult. I have never used the iPod ear buds because they suck really bad, instead I have used my iPods with the following: Technics DJ1200, Bang & Olufsen A8′s and the Shure E2′s. The Technics made my ears sweat and they hurt after long use. The B&O A8′s sounded terrible with a complete lack of low frequency response (ie no bass). The Shure E2′s are the best earphones I have owned so far. They are canal phones which basically means you stick them deep inside your ear. They provided excellent sound quality and provide amazing isolation from the outside world. If you have them on with music playing at a decent volume you won't be able to hear anything around you. I once made Nat scream at the top of her lungs right in my face with my E2′s on and I didn't hear her at all. The downside though is they take like a minute to put on and in a working environment with lots of interruptions, they weren't practical at all.
So since I ordered my new iPod Video, I wanted to order new headphones. I did allot of research and I finally brought down my options to two headphones, The Grado SR60′s and the Sennheiser PX100. Both are open air speakers which means my neighbors would hear what I was listening to but that wasn't a concern. What I was looking for was good sound, portability, comfort and practicality. The Grado SR60′s are one of the best quality headphones you could buy and for their price ($69) they are a steal. Many audiophiles compare their quality to much more expensive headphones costing hundreds of dollars more. The Grado's are handmade in Brooklyn and they have a retro look which you will either love or hate. I was about to get them when I realized they didn't fit the specs I wanted. They were not comfortable, they were not portable and because they came with a really long cable they weren't very practical. So my only option was the PX100.
I just got my PX100 over an hour ago and here is my first impression. The headphone case is amazing, the PX100 fold down to a very compact size and which you can then shove into this cool plastic case it came with. Sound wise they sound really good at the moment with very decent bass and very clear highs and mids. According to forums the sound will also get better once I break the headphones in over the weekend with a continuous 48 hours of non stop music playing through them (to help speed up the break-in period). The cable length is perfect and so far the headphones are very comfortable, so comfortable that I can't actually feel them on my head! The downside of the PX100 so far is that it looks pretty cheap, but that's expected since it cost me only $49. So far I really like them, once I get my iPod on Saturday and I finish breaking in the headphones I will post another better review so check back.

Update: I have had my PX100 on for 3 hours now and I had totally forgot they were on until I just tried to scratch my head. My neighbor can hear the music I am listening to but I made a deal with her, she now can play music through her computer speakers if she wants to while I am listening to my headphones, that way I don't bother her.