Posted by Mark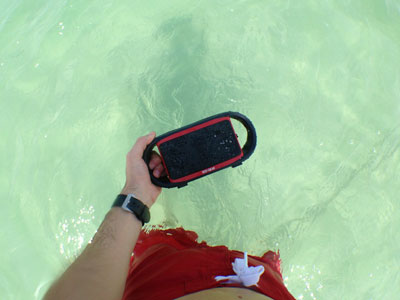 The Ecoxbt is an interesting little speaker since it's completely waterproof. While I use my Bang & Olufsen Beolit 12 on the shore, once I get into the water the Ecoxbt takes over. It's a small lightweight speaker that not only is waterproof but also floats on the water. I've been using it now for three weeks and it's really made chilling in the sea more entertaining.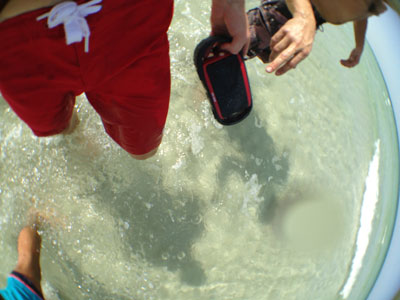 The first time I took the Ecoxbt to the beach I literally threw it as far as I could into the sea. I didn't have a specific reason other than the fact I could do it knowing the speaker would still be ok. The Ecoxbt pumps out just 6 watts of sound which isn't much but surprisingly it's more than enough when you're out in the water. It's a bluetooth speaker and I use my iPhone with a waterproof case to stream music onto it. When I'm home I have the speaker setup in my shower and I could stream music to it from my iPhone which would be charging in the adjacent room. So give or take around 10 meters apart. Out at sea though the distance drastically drops. Water kills the signal so if you have your phone in your back pocket under the water the bluetooth signal won't get to the speaker.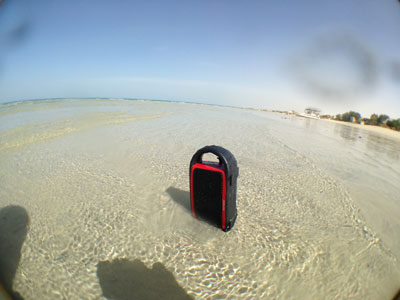 Another downside is the Ecoxbt floats away if you leave it floating in the water. If you want to just leave it in the water like that then its best to do it in the pool where there are no waves. What me and my friends have been using the Ecoxbt mostly for is listening to music while relaxing and tanning in the shallow waters near the shore. I just dig the speaker into the ground and then dig my iPhone into the sand right next to it and they'll both stay there until I take them out. These are small speakers so don't expect any kind of thumping bass but they more than do the job. The rechargeable battery also lasts a ridiculous 15 hours so we've never run out of juice.
I've really been enjoying this speaker and it now has a permanent spot in my beach bag right next to my Beolit 12. The Ecoxbt costs KD42 and is available to purchase online from [Blink] and [uBuy].