Posted by Mark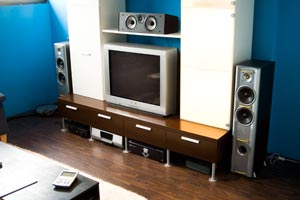 In one of the forums I usually visit somone had a post asking for everyones home theater setup. This is mine:
TV: Panasonic TX-33P100X
Receiver: Kenwood KRF-V8881D
DVD Player: Sony DVP-NS575P
Speakers: Jamo X870 for left and right. Paradigm CC370 for center. Two OEM Kenwood speakers for surround (they came with an older amp). No subwoofer (Jamo's have 10″ woofers built in)
Universal Remote: Sony RM-AV3000
Tivo: Series 1 Philips with 120GB drive
Future plans:
– Need to upgrade rear speakers to Paradigm ADP-170
– Need to get a Definitive Technology SuperCube Subwoofer
– Need to upgrade my TV to a Sony 34″ HDTV CRT
– Need to upgrade receiver, probably with a Denon
Click here for a largeer picture of my setup
Whats your home theater setup?
Update: I just replace my Kenwood receiver with the Denon AVR-2106 and the Sony universal remote with the Harmony 880.