Posted by Mark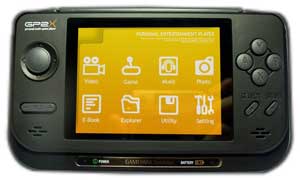 I finally figured out what I want for Christmas. It was really hard to find something I wanted but after weeks of searching I found something, the GP2X.
The GP2X is a portable gaming device based on the Linux OS. No games are made for it specifically like the PSP and Gameboy but there are tons of emulators and home brew games that would run on it since its Linux based. The GP2X also plays movies but unlike the iPod Video and PSP the GP2X isn't picky with video formats and can handle most of them including MPEG, MPEG4, DivX 3.11,4x,5x, XVID and WMV. The device uses SD memory which means I can cheaply get a 2GB card and shove tons of stuff on it.
The device uses 2 regular AA batteries which when watching movies can last up to 6 hours which is 3 times more then the PSP and double that of the iPod video. Whats cool is I can buy a bunch of rechargeable AA's and when the battery dies just swap them with new ones.
I found the GP2X online for like $179 so its also not expensive. So, I made up my mind, I want a GP2X for Christmas.
[GP2X on Wikipedia]
[GP2X Emulation]
[GP2X Dev Wiki]