Posted by Mark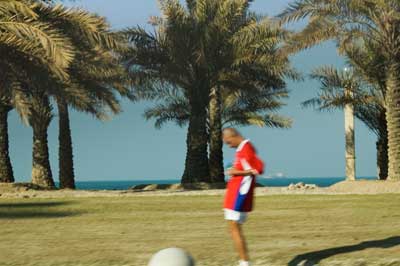 There is this guy who is always running on the Gulf Road no matter how bad the weather is. The other day when it was raining, he was running, when its 50 degrees in the middle of summer he is out running. He is always running. So I decided next time I see him I would ask him if I could interview him like I did with Shark of Kuwait.
Well today while parked in one of the parking spots on the Gulf Road taking pictures of the Infiniti I saw him run by me. I quickly gave Nat my camera and told her to wait there while I ran after him. I must have ran behind him for a minute yelling out for him to stop before I was able to overtake him and make him stop. By then I was completely out of breath. The guy looked at me waiting to say something and then he fucking yelled out extremely loud in Kuwaiti "Tabi shay mini?" meaning "Do you want anything from me?" By the time I could catch my breath to say anything he yelled out something else and ran off.
I stood there still trying to catch my breath and wondering why he was so aggressive and why the hell was he shouting at me even though I was standing right next to him. Someone previously commented that he was a champion runner does anyone have information on him?