Post by Mark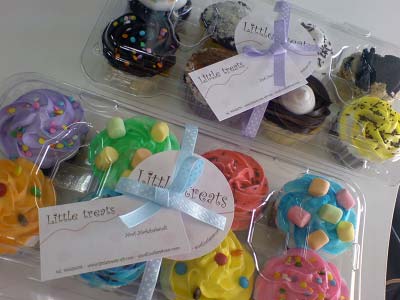 Today morning I got 24 cup cakes from Little Treats. The delivery guy came early in the morning to my office, I paid him and then hurried back to my desk so I could dig in. I spent the first 5 minutes just staring at the cupcakes, they were just so beautifully decorated I didn't know if I should eat them or just look at them. Finally I opened up the package and tried the cupcakes.
The Little Treat cupcakes are much better then Juju's. Everyone at my office who tried them gave the same comment "these are better then yesterdays". Yesterday being Juju's cupcakes. Other then the fact that the cupcakes are bigger and better decorated then Juju's, they also taste better.
My biggest issue with Little Treats is the packaging. Its difficult to take out one cupcake without damaging the decoration on it or on the cupcakes adjacent to it. Other then that after trying both Juju's and Little Treats cupcakes I have realized I prefer muffins over cupcakes and cookies over muffins.
If you are interested in Little Treats check out their website by clicking [Here]