Posted by Mark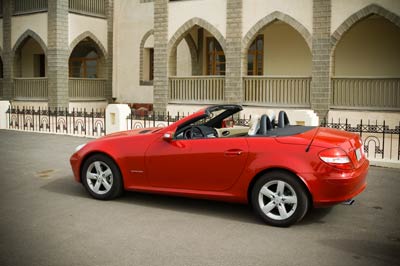 Today the weather started off perfect. In the morning I went riding with Marzouq on my bike and then in the afternoon drove around in the SLK with the roof down. Its a lot of fun driving around in a roadster convertible, so fun that I didn't want to even park the car somewhere so I could take shots for the blog.
I was cruising on the Gulf Road with Nat by my side when I spotted k.thekuwaitis car on the other side of the road heading the opposite way. He then called me up and we decided to meet up on the side of the road. Thats when I took the camera out to take shots of the car or else I would have kept on driving.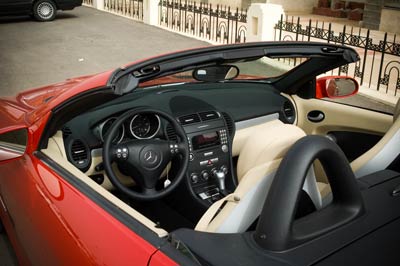 The SLK although having the small 1.8 liter engine doesn't feel too slow on the road. The acceleration feels fast and I thought the car was actually faster then my beemer but to my surprise when I checked the stats online turns out the SLK actually is 1.1 seconds slower from 0-100. I guess with the roof down and the sound of the engine blasting it exaggerates the impression of speed.
So far I am really enjoying the car. Its both compact and a convertible so its a lot of fun. Best thing of course is the hard top. Once the weather got really dusty it took a click of a button to put the top back up and just like that its not a convertible anymore, it was a coupe with a hard roof.