Posted by Mark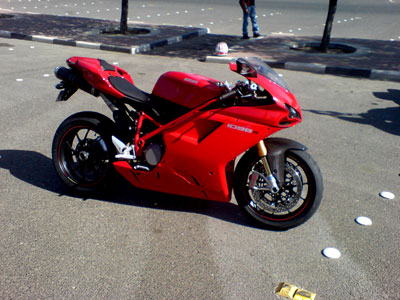 Just got back from my ride today morning. I first cruised around Salmiya for a little bit and then headed off to Marina Crescent to see if their were any bikers there I knew. I ended up finding Marzouq who earlier in the morning had been out biking with Nat. We decided we would ride to Green Island where a bunch of Ducati and BMW bikers were gathering up for a ride out to the desert which was organized by TriStar.
As we were approaching the gathering area I spotted the new Ducati 1098s from far. There was no way to miss it, it was parked away from the rest of the bikers and it was sparkling under the sun. We parked our bikes, said hi to some friends and then me and Marzouq went over to the 1098. Its a really tiny and light bike weighing around 170KG and producing around 160HP! Thats nearly one horse power for every kilogram.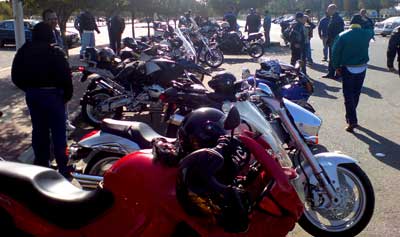 Anyway we hung out for a little while and then headed out for a ride. One thing I did today was go back to the intersection I had my first crash in and take the same route I took that day. Might not sound like much but after I had my accident I went through the whole incident in my head over and over and then I kept visiting that route with my car just to go over the spot and try to figure out how I messed up. So today I decided I couldn't avoid that intersection for ever and I took it with my bike. I think going through the turn gave me a boost of confidence which is what I needed.
One issue I realized I had today was accelerating from a traffic light while I am with Marzouq. I usually know how much throttle to give and how much clutch to let go of using the sound of my bikes engine. But the problem is Marzouqs bike is bigger and much louder and so when I am with him I can't hear my bikes engine anymore. I swear I think I messed up at like 6 traffic lights today, it made me feel like such a newbie. This is why I decided I am going to either upgrade the mufflers with some really cool louder ones by Termignoni or, try and convince Nat I "need" a Ducati 749.