Posted by Fajer Ahmed
Hello everyone, although I haven't posted here in a while, I have been reading your questions and emails. Over and over there is one question that is constantly being asked so I have decided to post the answer here, so you can all benefit.
"How can I get a release from my company?"
This question is not as simple as it seems, the answer depends on a few things (I am assuming you work in the private sector and Kuwait Labor Law 6/2010 applies to you):
1) If you have passed the 100 day probation period or not
2) The type of contract you have (specified or not specified)
3) Whether your employer was providing you with your rights as per Kuwait Labor Law
So therefore I tried to simplify the answer in a flow chart below: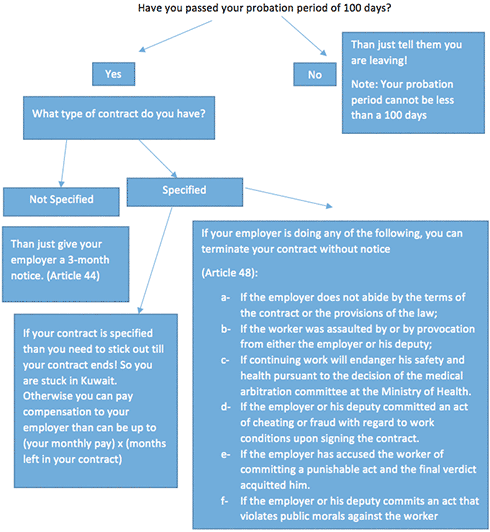 I really don't like how some employers are keeping foreigners here against their will by using a specified contract, putting travel bans against them and doing other manipulative things. This isn't a perception I have but stories I keep hearing EVERY SINGLE DAY! So my advice to you is, if you want to leave and they won't let you go, email your boss with all the things they are doing that are against the law or your contract, for example withholding your passport, not paying you on time, not paying you over time, working more than 8 hours a day and so on (Read your rights here)
Also I would like to take some cases pro-bono with a help of lawyer friends, so please email you if you feel your employer is not being rightful!
As for company's please read this link that has employee rights, you have no excuse to treat foreigners this way.
If you have any further questions please write them below, I will try to answer you here.
Post by Fajer Ahmed – Legal Counsel
The legal opinions expressed in this post are those of the author Fajer. Opinions expressed by Mark or any other writer on 248am.com are those of the individual's and in no way reflect Fajer's opinion.