Posted by Mark
I've already posted about the Zinio magazine app on the iPad before (pictured above) and about how great it is and if there was only one app I could have on the iPad that would be it. Sadly though, not all my favorite magazines are available to subscribe to on Zinio… or at least not available yet. So what's the solution?
You're going to have to download magazines illegally.
Magazine subscriptions are cheap with the majority costing around $10 a year and I've already subscribed to over a dozen but the ones that aren't available in Zinio I just download pirated copies of the magazines for free.
To do that you need two things, a PDF reader on the iPad and links to sites that post those magazines for you to download.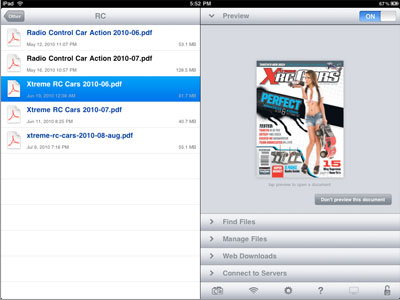 PDF Reader
I use GoodReader (pictured above) on the iPad to read my PDF magazines. The reason I went with GoodReader over other PDF readers is because it's cheap, it handles large files extremely well and also because it has a ton of features. Some of the cool features are the ability to upload files into GoodReader directly from your web browser on the computer over wifi, the ability to drag and drop files into GoodReader from iTunes and the ability to download files from the Internet directly into GoodReader via an internal browser. Not only that but you could take a bunch of files, zip them up, upload them into GoodReader and then unzip them within the app. The only downside to GoodReader is the extremely ugly app icon.
Magazine Sites
There a ton of sites but the ones I use the most are the following: World Mags, Get Magazine and Magazines Download. Now just an FYI before you click the links, those sites also have PDF's of certain magazines that are banned in Kuwait so close your eyes when you see them.
That's all there is to it. Most of the magazines available in Zinio are also available at those sites as well but, since subscription fees are very cheap on Zinio I would highly recommend you subscribe to them instead.