Posted by Mark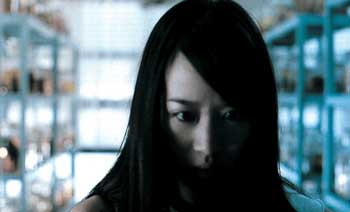 I watched the horror movie Shutter the other day. It was my first Thai movie I had ever watched and it left me impressed. I don't know why I keep watching these horror flicks, they freak the hell out of me, seriously.
Shutter is about this guy and girl who run over a girl one night while they were driving back home and then they leave her to die in the middle of the road. The guy and girl are both photographers and so the girl starts haunting them in their pictures. They start finding weird shadows and ghost like forms in all the pictures they take which start to freak them out. If that wasn't enough they start seeing the dead girl in real life. It was a really freaky movie with allot of creative moments which I had never seen before in any other horror movie.
This movie also convinced me to make my own horror movie except mine will be realistic. In my movie when you see a dead girl come out of your sink in your photography dark room, you run away and you never step foot into that dark room again! Seriously I can barely watch scenes like this while the people in the movie seem to find it freaky for 5 minutes and then act like it never happened. There was one really cool scene in the movie where the guy would be sleeping and then wakes up to find someone at the end of the bed is slowly pulling away the cover, he looks down and sees the dead girl! I told Nat that was pretty cool and I might try it on her one day, she told me if I did it would also be the last day I see her! No sense of humor at all..
I don't know how easy it is to find this movie in Kuwait and its also not available on Amazon but you could download it the way I did via torrentspy. Its a great horror flick with a really cool ending, something thats just really fucking freaky and just goes to show how creative this horror really is.