Post by Mark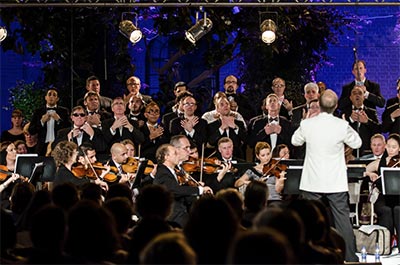 Last night I attended "Last Night(s) of the Proms" by the Ahmadi Music Group which was held at the British Embassy. It was my first time attending an event by the Ahmadi Music Group and I left not only impressed but the first thing I did once I got back home was to try to sign up to their mailing list (it's not working) so I would be informed on all their upcoming events.
The event was held outdoors inside the British Embassy where a stage and seating area were beautifully set up in their garden. The Ahmadi Music Group last night consisted of 46 members of the orchestra performing alongside 79 members of the choir so the stage was pretty packed. The conductor Richard Bushman did an incredible job introducing every piece to the audience before it was played explaining what we were going to hear and why it was important. He was very entertaining to listen to and I think he helped make the event more accessible to people like me who don't know much about operas or orchestras. My only criticism would have to be with the sound setup. The majority of the sound was coming from one speaker on the right side in back which made the whole thing uncomfortable to watch.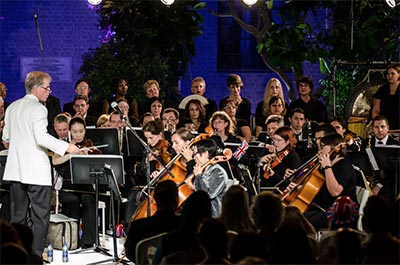 Next year will be the Ahmadi Music Group 60 year anniversary which is an incredible accomplishment. I would have posted about this event ahead of time but a friend got me my ticket while I was in London and I honestly only found out what I was there to watch as I was walking into the embassy. I will be posting about their future events from now on and here is a list of their upcoming events that was listed at the back of yesterdays program:
December 6, 7: Family Seasonal Concert
February 20, 21, 22: George Frideric Handel, Acis and Galatea
April 10, 11, 12: Gloria! Music by Vivaldi, Mozart and Rutter
For more information on the Ahmadi Music Group and their events, check out their website [Here]
Note: No cameras or electronics were allowed into the embassy so the pictures above are from their 2012 performance.