Post by Mark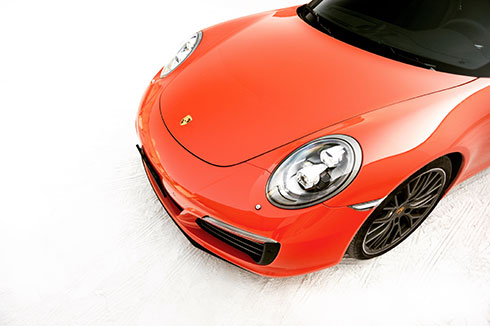 The past few weekends have been pretty exciting for me, I had a Lotus for three of them and then this past weekend I had the new 2017 model year Porsche 911 Carrera S. It was actually perfect timing since I had recently taken out the Lotus Evora which I consider a direct competitor of the 911 so it was a good opportunity to compare the two. This wasn't my first time in this current generation 911, I had previously raced one around the Dubai Autodrome during the Porsche World Roadshow a few years ago. But this model I drove this past weekend was the face-lifted version which they're calling the 911 II.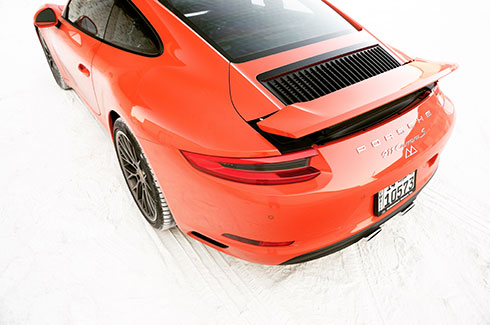 Visually the exterior of the 911 II doesn't look that different from the previous years with most of it being just aerodynamical upgrades. But, there are some important changes that take place under the hood. The new Carreras are now turbo charged giving both the regular Carrera and the Carrera S an extra 20HP each. This upgrade has allowed the Carrera S to hit 0 to 100km/h in under 4 seconds making it the first Carrera to break the 4 second barrier. The previous model hit 0 to 100 in 4.1 seconds but this new model now does it in just 3.9.
Another major upgrade is the infotainment system which now includes Apple's CarPlay. I've been using CarPlay since 2014 and although it looks pretty, it's fairly buggy and lacks some important features. Luckily you'll still be able to use your phone via bluetooth in the Porsche, something I sadly can't do in my car. An important thing to mention is you now no longer have multiple options of the infotainment system to choose from. I think thats great because end of the day this is a Porsche so you'd expect all the cars to be fitted with the best infotainment system available. But previously what came standard was an infotainment system that lacked features unless you were willing to plough down around 800KD for the proper one. Now all the 911's come standard with this new system which is great. Finally one more new feature which I personally loved is the new steering wheel with a rotary switch that controls the driving mode similar to that of the Porsche 918. The steering wheel was oddly my favorite thing about this 911, it felt great in my hands and the design will surely look great years down the line, something I can't say about the older Porsche 911 (996).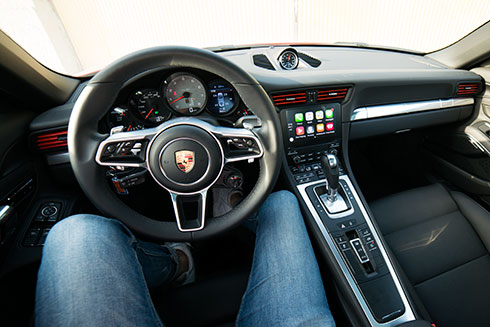 The 911 is pretty much flawless, there really isn't anything I can fault about the car, even the trunk was surprisingly big. The car was fast, lots of fun to drive and the model I drove had a flashy lava orange color with a beautiful black interior. Which reminds me…People of Kuwait I have a request, STOP ordering Porsches with Bordeaux Red or Beige interiors! Please stop it! Seriously there needs to be an intervention. I was so surprised when I realized I was about to get into a 911 with a black interior in Kuwait, I figured it must have been an international Porsche dealer guideline or something. The Porsches interior looks so much sportier and hotter in black, it's really the only way to go. Anyway, back to what I was saying, the car was fantastic and I can understand why everyone in Kuwait has one, it's probably the best daily driver sports car you can get.. which is why I don't think I'd ever buy one myself.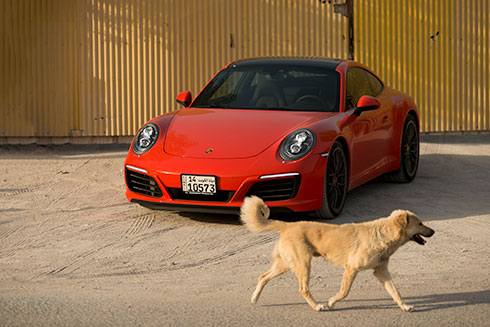 The cars local success is the cars biggest downfall for me. Every other person in Kuwait seems to have a 911. When I want to plucker down KD40,000 for a car I don't want to blend in with half the population of Kuwait. I mean I get why everyone is buying the car, it makes perfect sense but Kuwait is such a weird place, you'd think these cars were so much more affordable based on the number of them out on the road.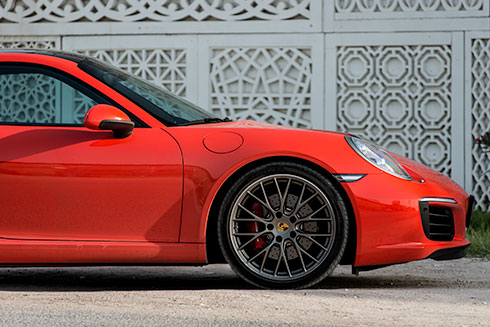 Still that doesn't stop me from heading over to the local Porsche dealers website every few weeks and building my own car. If you've never checked out their website before you should, there is an option to build a Porsche but the best part about it is it will tell you how much it will cost (Jaguar you guys need to add the prices on your website). So I'm on their website every now and then building a Cayman GT4 or a 911 for fun trying to fill it up with options that make sense and offer the most value and I take it fairly seriously as if I'm buying the car even though it's all just imaginary. After driving the 911 this weekend there is one option I'm taking off the list for sure and thats the KD900 Burmester sound system. It's not worth it, the car I drove this weekend had it and I was disappointed with the sound. It was extremely boomy and I can't imagine the stock sound system sounding any worse. Another option I won't be adding? The Lane Change Assist (a KD210 option), there aren't any blind spots on the car and anytime the lane change warning light came out, the other car would be in clear sight of me. There are tons of options you can add to the car and they quickly add up. For example the Carrera S starts at a very reasonable KD34,000 but the model I drove costs around KD43,000 because of all the options it had in it. You don't need door sill guards in stainless steel and illuminated (KD220 option), or the air vent slats painted (KD360 option) or the Porsche crest embossed on the head restraints (KD60 option) or a bunch of other superficial options. So if you hold yourself back with the options you should still be able to get a 911 at a fairly affordable price (for what it is).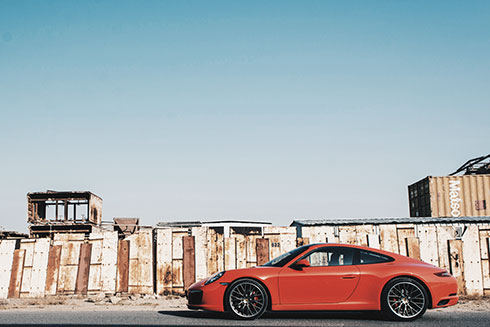 I ended up dropping the car back to the dealer earlier then planned, that should basically summarize my feelings towards the car. I've driven a ton of cars over my lifetime, a lot of them were dull and a lot of them were exciting. When I took out the Camaro ZL1 or the Lotus Exige, I was a completely different asshole in them, when I took out the Mercedes S-Class I felt like a pimp. But with the 911, I just felt like a boring and responsible person, it didn't excite me in anyway. On the plus side, they've introduced the Miami Blue color which reminds of the old 90s Riviera Blue 911 (993) which was and is my favorite Porsche of all time. FYI, thats the color to get with a full black interior.
Like I said, if you haven't done so already, head over the Porsche Kuwait website and build your own car [Link]