Posted by Mark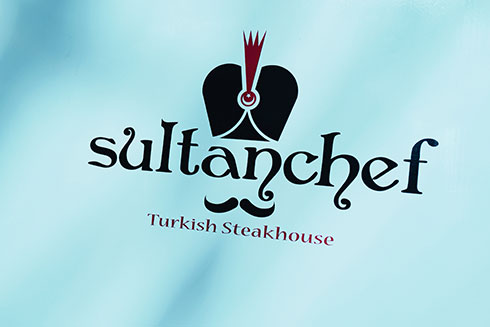 A couple of friends and I passed by the Turkish Steakhouse Sultanchef yesterday for lunch. I hadn't heard of the place before but my friend had and supposedly it was really good so we decided to try it out. The restaurant is located in Al Tijaria Tower which I consider a dead mall so I was pretty surprised to find the restaurant fully packed when we arrived. This was a mid week lunch in a mall with very little footfall yet we had to wait 5 minutes for a table to free up in what is a pretty large restaurant.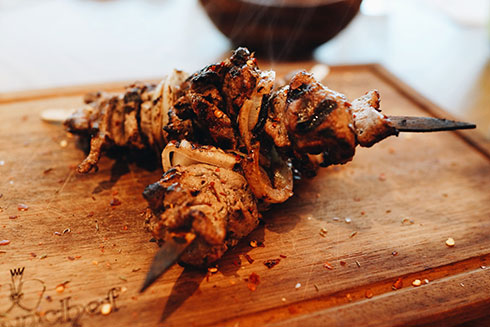 Once we were seated we asked our waiter what he would recommend to which he replied telling us if it's our first time visiting we should come with him to the fridge so he could explain all the different cuts of meat and dishes they had. We headed to the far end of the restaurant where two large fridges displayed all the meat… a lot of meat. One by one he took us through everything and in the end we ordered the following: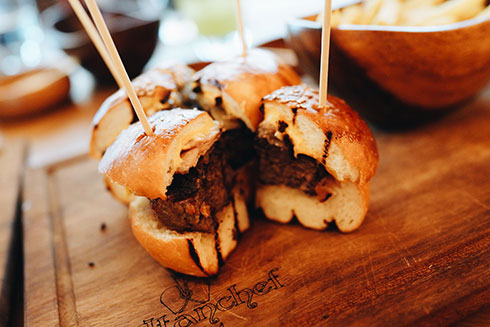 Goat Cheese Salad (x2) KD4.000
Sultanchef Cheesy Meatballs KD4.750
Marinated Sliced Beef KD9.800
Sultanchef Burger KD4.600
Rack of Lamb KD34.600
Sultanchef Special (x2) KD15.150
Special Antep Baklava (x3) KD8.850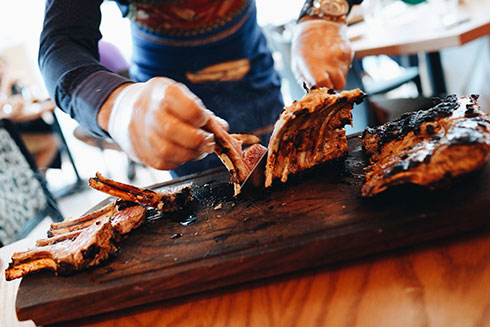 The first dish that arrived were the cheesy meatballs. Even though they're called meatballs they weren't really balls but more like large semicircles. The presentation didn't look that great but damn they were good. If we hadn't ordered so much food we would have definitely ordered another portion of these. Once we were done the sliced beef on skewers arrived and those tasted even better than the meatballs. It was a great start to what would be a protein overdose lunch. Just a quick note, by default everything is cooked medium well so we had to tell them to cook everything medium for us. The burger arrived after chopped in four and even though it was overcooked it was still pretty juicy. The burger had caramelized onions, cheddar cheese and a slice of smoked beef all packed between a delicious bun. A good burger that we ordered out of curiosity but this really isn't the place to order one. The goat cheese salad arrived somewhere between all this and I didn't really like it. Not that it was bad (my friends liked it) but I just thought it was unexciting compared to everything else we were having.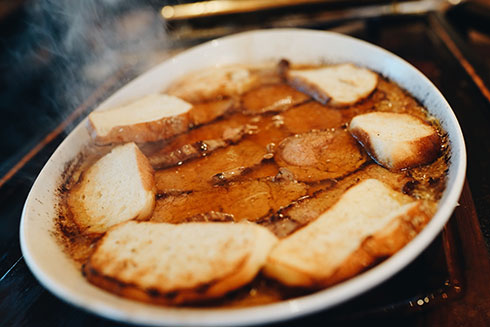 Once we were done with our starters one of our main courses arrived, the rack of lamb. When you order the rack of lamb the chef comes from the kitchen to slice it up for you table side. The chef is a character of his own, he puts on a great show and even feeds you the first bite which is hilarious and awkward at the same time. The rack of lamb was delicious and the quantity was huge. We were three guys and the portion was more than enough for us. Once we thought everything was done the Sultanchef special arrived which is thinly sliced beef fillet drenched in butter. By this point even though we had eaten enough meat to feed an adult tyrannosaurus, we still managed to dig into the Sultanchef special as if we had just started our lunch. Just like the rack of lamb, the chef comes to your table to serve you the food. Once we were done with our food we decided to order dessert. If there is one thing you should have at Sultanchef it's their baklava. The chef also comes to your table to prepare and serve their special baklava and come to think of it the chef is a pretty busy guy. He comes table side with the baklava and some ice cream, he then splits open your baklava, spreads the ice cream inside and then closes the baklava creating a baklava ice cream sandwich. That's just INSANE. 50,000 calories later and right before we slipped into a food coma, we asked for the bill while sipping on some traditional tea.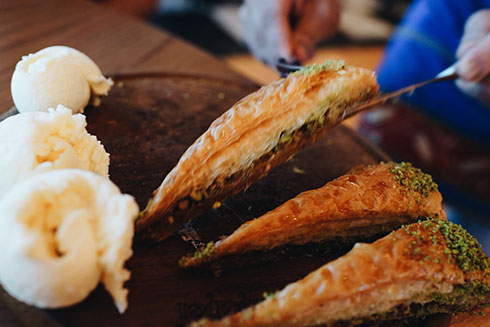 Even though the place was packed with every table occupied the service was incredible and surprising for a place that has been open for just two months. Usually places take a lot longer to get their service working like clockwork but these guys somehow managed to do it in a much shorter timespan. Our waiter was Turkish and very knowledgable, friendly and helpful which is why he ended up with a big fat tip at the end. Pricing on the other hand is an issue. All the food was delicious and I'd love to order all of it again but at the end with the drinks and tip we ended up paying around KD35 each. That's pretty expensive for what essentially isn't a high end luxury restaurant. But based on how packed the place was, it seems a lot of people don't mind paying that much for what really is a great steakhouse.