Post by Mark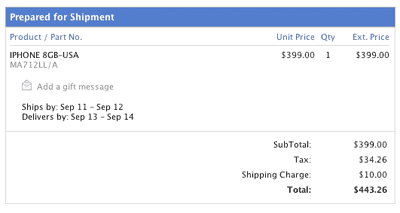 Marzouq was supposed to get me an iPhone with him from the States but he couldn't buy one from the store without signing up for an AT&T contract. So I decided to order one online from the Apple Store.
Thing is because of all my traveling and shopping these past 3 weeks my credit card is completely maxed out, like KD80 over the limit. I figured let me place an order on the store and see if it works, if it didn't then it didn't and if it did great. Surprisingly, it went through. MTC Zain couldn't charge my last months phone bill to my card cuz it was maxed out yet Apple somehow managed to charge an iPhone!
Anyway for those of you who want to buy an iPhone, Amazon.com don't sell it but you can purchase the phone directly from the US Apple Store online. For your shipping and billing address fill in your USWS or Aramex address. For your credit card you can use a local card. I personally used my NBK Visa card and it worked. I don't know if it works with cards from other banks like Gulf Bank, Burgan etc.. but I am guessing they should. Enjoy!