Posted by Mark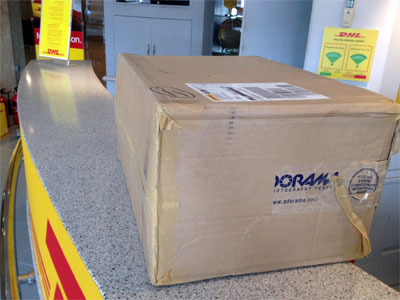 Two weeks ago I posted a letter from Aramex Shop and Ship saying that due to customs regulations they will be charging 5% customs fee on all shipments not including a KD1 handling charge and a KD1 government stamp. From what I understood this was going to apply to all shipping companies but today I received a package via DHL Borderlinx and to my surprise there was no charge. According to the DHL employee they're not charging 5% customs on shipments. But does that make DHL cheaper? I'm not sure.
The problem (the only problem actually) with DHL's Borderlinx is they charge based on volumetric weight. What this means is if a small box weighs 1KG and a large box weighs 1KG, the large box is going to be more expensive than the small box even though they're the same weight. In my case my package weighed around 2KG but the volumetric weight was around 5.35KG. If I had shipped it with Aramex they would have charged me for the 2KG but with DHL I had to pay more than double the actual weight. On the other hand unlike Aramex, with DHL you don't pay the 8% New York State tax and you also don't pay the 5% Kuwait customs tax so which comes out a better deal?
Item cost: $187 (KD51)
Actual Weight: 2.2KG
Volumetric Weight: 5.35KG
Aramex Shop and Ship
8% NY tax: $15 (KD4.1)
Shipping cost to Kuwait: KD13.75
Kuwait customs: KD6*
Approx time from US to Kuwait: 8 days**
Total shipping cost = KD23.85
DHL Borderlinx
No NY Tax
Shipping cost to Kuwait: $110.60 (KD30.8)
No Kuwait Customs
Time from US to Kuwait: 4 days
Total shipping cost = KD30.8
So even with the new 5% customs fee Aramex is charging and even with the NY State tax they still somehow end up cheaper than DHL. This mostly has to do with the fact that DHL charges on volumetric weight. If they charged on actual weight than they'd be considerably cheaper. On the other hand DHL is practically twice as fast as Aramex so that alone could be worth the extra cost for many people.
My conclusion
Large (not necessarily heavy) packages ship to Aramex
Small or regular sized packages ship to DHL
So basically I'm still going to be flip flopping between the two companies for now.
*Calculated using their customs calculator
**Based on a different shipment just received from Aramex