Post by Mark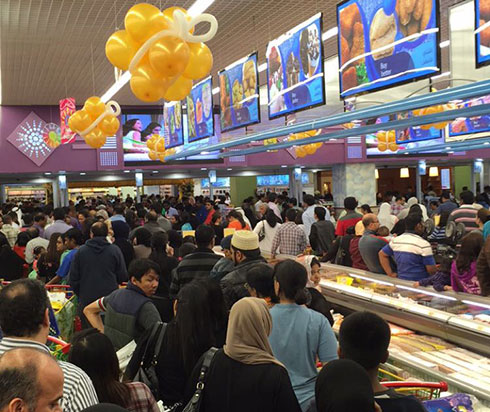 Lulu Hypermarket opened up their Salmiya location this weekend and I passed by last night to check it out. I have to say, opening up Lulu in the new Al Salam Mall had to be the worst idea in the world and I'll tell you why.
The Lulu in Qurain has a parking lot the size of 6 football fields and it's always packed. Same with the Lulu in Al Rai which has parking in front, on the side and a super huge parking lot in the back the size of 4 football fields. Their Salmiya location has a parking lot that is too tiny for the mall itself to begin with yet alone a mall with Lulu in it. The whole are around the mall is now jam packed with cars parked in every conceivable spot be it in the middle of the main road or on top of sidewalks. The traffic around the mall has also increased considerably and there are now traffic jams where there rarely used to be any cars before. The ridiculous part is there used to be a multistory parking lot behind the mall but for some reason they decided to demolish it.
The other issue is the amount of people who want to shop at this Lulu. When I went yesterday you literally couldn't shop. I was without a trolley walking around and I had difficulty maneuvering through the crowd. If you did decide to do some shopping then you were met with the longest supermarket cashier queue I had ever seen (check the picture above).
I'm not sure if its currently super packed because they just opened but I hope thats the case. I think its probably always going to be super packed because it's the closest Lulu for everyone living in the heavily populated areas of Jabriya, Hawalli, Salmiya and Salwa. As it is right now though it's just insane.