Post by Mark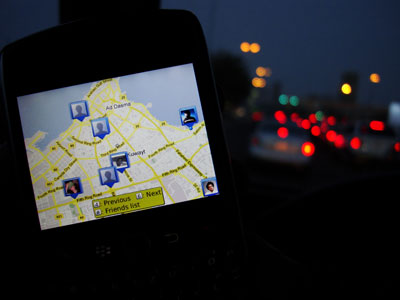 Although in most places around the world the BlackBerry is used as a business tool in Kuwait its become a social one. With all my friends practically owning one the built in BlackBerry Messenger is a perfect way to stay in contact with all of them through out the day and a much more efficient way to communicate quick messages. Google Latitude is another application that also helps in being more social by showing you where your friends are around the world at that moment. Basically how Latitude works is you need to install the application on your BlackBerry and then sign in using your gmail account and add other friends who also have Latitude installed. You will then be able to see them on the map like in the picture above.
Latitude has many useful uses, I personally use it to find friends nearby like if I am at the Avenues I check and see which one of my friends is there or like last week I was at Kinkos in Salmiya waiting for something to get printed and then I noticed on Latitude Marzouq was just down the street. Latitude also helped a friend get to a BBQ I was at. He didn't have the address but since I was already at the BBQ he just looked for me on Latitude and then drove towards me.
But the software isn't perfect, when you're indoors the GPS usually doesn't work so the software uses cell towers to estimate where you are. Sometimes for some odd reason Latitude thinks I am in London or a friend is randomly in Belgium or Pakistan. It doesn't happen frequently but when it does it can be funny or annoying depending on the situation.
Latitude works on the following phones:
– Android-powered devices, such as the T-Mobile G1
– most color BlackBerry devices
– most Windows Mobile 5.0+ devices
– most Symbian S60 devices (Nokia smartphones)
Its free and you can get it from [Here]