Posted by Mark
I know a lot of people will be traveling to Europe during the Eid so I just wanted to share some handy travel software that will work on Nokia phones and in some cases other smartphones, iPods and PDA's.
I already previously posted about A-Z Maps which I purchased before I traveled to London for the first time last month. It was an incredibly easy to use software which allowed me to navigate London very easily as if I had been there before. The company has maps for other cities also including Paris, Barcelona and Helsinki. The map starts up instantly when you run it and then you just type the name of the street you are in and the software will show you where you are on the map. It's also not expensive costing around KD10. More details on this software is available on the publishers website. http://www.lumisoft.net/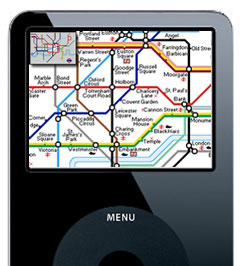 Another software I recently purchased in my preparation for my London trip later this month is Tube 2. When I was in Paris last month I had a hard time navigating the underground subway system and this software will be making my life a lot easier this time around. I purchased two versions of the software, the Tube 2 London and Tube 2 Paris. How it works is you type the name of the station you are in and then type the name of the station you want to go to and the software will visually show you your route on the underground map AND it will also give you step by step instructions. Here is an example of a trip from the Marble Arch to Waterloo station:
Marble Arch to Waterloo
Time: 13 minutes
Changes: 1

1. Marble Arch to Bond Street
Depart Marble Arch via the Central line (Eastbound) towards Epping for 1 stop.
Service runs every 5 minutes.

2. Bond Street to Waterloo
At Bond Street change to the Jubilee line (Southbound) towards Stratford for 3 stops.
Service runs every 5 minutes.

3. Waterloo
Arrive at Waterloo.
As you can see it makes things a lot easier. The software costs like KD3 and its available for the London, Paris and New York subway system. You can get more information from the software publishers website. They also have versions that work on iPods but they work differently. http://visualit.co.uk/