Posted by Mark
Yesterday I got an email from the owner of a business called Live Sketchbook inviting me to check out her place in Avenues. She described it as a 4D interactive park for kids and although kids stuff never interest me, I was curious to what a 4D interactive park was so I asked her if she had some photos. She emailed me a few and as soon as I saw them I headed over to Avenues to check the place out in person.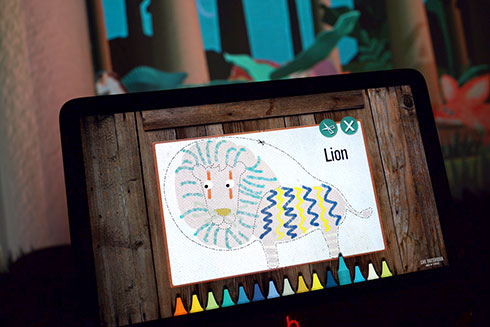 Live Sketchbook is a small space located up escalators #20 in Grand Avenues (right next to Muji). It's a space for kids to come and spend time playing around with one of five different activities they have including:
– A Live Mask station which is a screen you sit in front of and the computer will combine your face with one of an animal of your choice resulting in a creepy/realistic outcome.
– 3D sketching tablets
– A reading corner
– A live mirror in which when you stand in front of will have realistic looking animals walk next to you
– And finally the star of the place, the Live Sketchbook
The Live Sketchbook occupies the majority of the space in the shop and it's composed of a bunch of touch screens laid out in front of a large wall that has animated illustrations projected onto it. Kids can get on one of the touch screens, open up a coloring book, choose an animal of their choice and then color it in digitally using the onscreen crayons. Once they're done they can then cut out their animal and flick it up their screen. When they do that their illustrated animal will fly off their screen and onto the animated wall in front of them where their illustration will join the other illustrations on the wall. If that alone wasn't cool enough the kids can then go up to the wall and interact with their sketch by having it bounce around every time they touch it. I tried it out with a lion I colored in and found it fun so I'm sure kids are going to find it very cool as well.
According to the owner she brought the Live Sketchbook concept from Korea and has the exclusive rights for the brand in the region. I found a video of the Live Sketchbook online which you could check out above to give you a better idea of how it works. They're going to be soft launching next week and it will cost KD10 for the full day and kids can leave and come back as many times as they want during the day. If you're interested to find out more, here is a link to their Instagram account [Link]