Posted by John Peaveler

[YouTube] Warning: Graphic video of dogs being shot
About a year ago, I was asked by Mark to post on his blog from time to time on issues related to animals in Kuwait. I don't get a chance to post very often, and when I do, it's usually on an issue that's particularly important to me or K'S PATH, the organization where I work. This particular post was prompted by what is certainly the most prolific case of animal abuse I've yet witnessed during my tenure in Kuwait.
On Friday, the 2nd of August 2013, a three-year-old girl was attacked by a pack of at least six stray dogs in Khairan area. The victim incurred serious although not life-threatening injuries, and has been reported to be recovering well. While the management of K'S PATH holds the victim and her family in its thoughts and prayers and extends its heartfelt condolence in this difficult time, the ensuing inhumane and brutal massacre of more than 80 reported stray dogs (to date) perpetrated by a group of individuals must not be condoned.
This statement questions the nature and objective of actions taken in retaliation to the attack, offers an insight into the nature of Kuwait's stray dog overpopulation crisis, discusses the shortcomings of official animal control methods adopted to date, and concludes by proposing a long-term, safe and effective alternative successfully tested by K'S PATH.
The mauling and risk of assault of an individual by a pack of stray dogs is a serious concern that warrants definitive action by the relevant authorities to safeguard the community through humane measures – which in this case is incumbent upon the Public Authority for Agriculture and Fish Resources (PAAFR). PAAFR currently lacks the funding, equipment, or expertise to implement and enforce preventive and remedial measures. In most cases of such nature, members of the community approach K'S PATH as it is presently the sole organization with demonstrated capability in capturing and handling stray dogs in Kuwait.
Unfortunately in the aftermath of the recent incident, some of the individuals involved chose another route by taking matters into their own hands through vigilante actions. As this statement goes to press, there are conflicting reports of as many as 80 dogs shot or killed so far; some of them by stabbing, running over, and dismemberment or decapitation.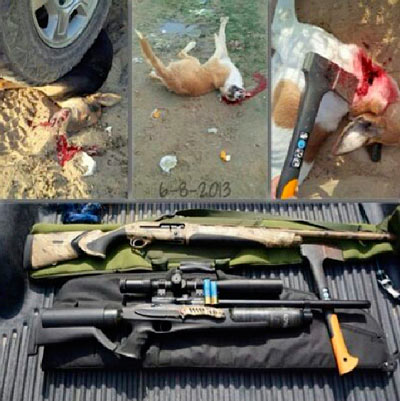 This original group of animal abusers blatantly publicized their actions on Instagram in a boastful fashion with graphic imagery of cadavers of murdered dogs, which further encouraged other individuals to follow suit by killing more dogs in what appears to have now taken a form of barbaric competition to slaughter as many dogs as possible to seemingly 'avenge' the attack on the little girl.
Indisputably and as a responsible measure to avert recurrences, the dogs that attacked the girl should have been identified, captured, and humanely euthanized (killed using a 'good' process of death). In fact, none of the dogs roaming Kuwait's streets belong here.
What we must ask ourselves as a concerned community is whether a responsible and sustainable solution to Kuwait's stray dog overpopulation lies with the impulsive and brutal recourse of a few individuals with hatchets, shotguns, rifles, and knives running around on a violent campaign of death, or whether we should instead adopt a more effective, humane and safer form of animal control.
Personally, I don't believe Kuwait has any need to resort to violence to solve this problem. In point of fact, I have spent the last four years developing a program of animal control for Kuwait that is humane and effective, with the purpose in mind of making our communities safer.
In Kuwait, and across many countries, the initial program of animal control adopted used lethal gunshot. However, program administrators and field technicians soon concluded that gunshot is messy, ugly, dangerous for the community, and ineffective in two ways. Firstly, in order to ensure the death of an animal, the projectile must pass through the brain and enter the spinal cord. Any other single shot is very likely to merely injure or cripple the animal causing great suffering and potentially creating a more desperate, aggressive animal. Secondly, it is nearly impossible to eradicate an entire group of stray dogs through this method because dogs will not tolerate the sound of a gunshot. The dogs that flee will be extremely difficult or impossible to catch, eventually becoming what in this field is termed 'capture resistant'. Gunshot did not last as a form of dog control in Kuwait for these very pragmatic reasons, and it is now forbidden for anyone to shoot dogs.
As gunshot was phased out, poisoning became the preferred method of control. It still is, though it is in the process of being replaced with the method I will propose last. Poisoning fails as a medium for dog control because only a fraction of the intended number of dogs will eat it. Of those who do ingest it, not all of them will die because quantity consumed is a crucial factor. Poison is extremely inhumane to the animal as it takes anywhere from 20 minutes to 72 hours to kill, again depending on dosage, rate of digestion, etc. Furthermore, poison will kill a stray dog as easily as an owned dog as well as a fox, a cat, an eagle, or a child. It is entirely indiscriminate.
Lethal gunshot and poisoning as forms of dog control have never been used effectively as a large-scale, long-term form of population control anywhere in the world. They have been used to affect short-term reduction in the overall population size, but they have never solved a large-scale dog problem. Both have been tried for many years in Kuwait with neither succeeding, leaving no possibility that either one will suddenly solve our stray dog problem. The most important factors to consider with these two forms of dog control are that they are unsafe, ineffective, and inhumane. Furthermore, they are outdated and have no place in the modern world. It is the equivalent of investing in steam technology to power our busses when there are much safer and frankly better methods available.
K'S PATH has the answers to this problem; we've painstakingly developed them over the course of many years. Read on to find out more.
Warning: Graphic photos below of the massacre after the link
Although packs of stray dogs running loose in Kuwait have been an issue for a long time, the numbers of dogs has been increasing in recent years. This rise in numbers has been caused by an increase in the rate of dog ownership, a steady increase in the number of fighting dogs and attack dogs, and the emergence of breeding clubs and organizations. As a result, we now have a steadily increasing number of abandoned dogs. Nearly every society on the planet faces a problem with pet abandonment, and Kuwait is no different. Consequently in Kuwait, we see a vicious cycle wherein an abandoned dog may survive a winter season, breed at least once, then die a few months after giving birth to a litter of puppies consisting of between 5 and 12 individuals. Of those puppies, on average 8 out of ten or fewer will not survive to adulthood. With this type of cycle, the population slowly grows despite all of the risk factors including human cruelty, piecemeal attempts at animal control, car accident, dehydration, disease, and starvation. Unchecked, the stray dog population of Kuwait now exceeds 5,000 individuals, reflecting studied knowledge of all areas except Wafra and Abdully.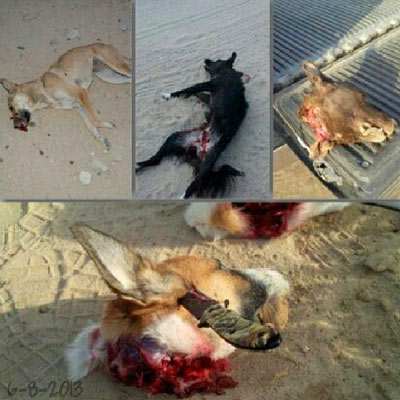 In 2011, the Kuwait Oil Company (KOC) approached K'S PATH with a problem: they wanted a better solution to the stray animals effecting their housing and assets because of a growing concern for resident and worker safety. To begin with, I conducted an assessment of the number of dogs in the area of the Ahmadi township. The result of the count was between 800 and 1,200 dogs, depending on breeding cycles. The next step was a demonstration of the methods I would be using to prove that they work. In general, we use three methods for catching dogs: capture by hand or with various poles and nets, capture by humane live trap, and chemical capture using dart projectors. Humane live trapping is our primary method of capture. Using ten traps and working alone, I spent a lonely night in Ahmadi catching 11 dogs in only a few hours of work. The numbers made sense, and we decided to proceed with the program.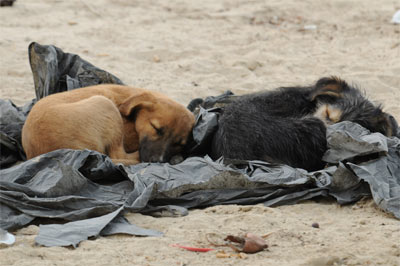 Over the next year, I spent nearly all of my working time in Ahmadi, working all night most of the time and often very early mornings. Having received all of the equipment needed and hiring an additional person to do the work, the two of us were able to catch nearly 1,400 dogs in less than a year. The program was overwhelmingly successful. People felt safe in their community for the first time since they could remember, no longer fearing large packs of roaming dogs. Men were stopping us to thank us for making it safe for them to walk to their mosque in the morning. KOC was very pleased with the results of the program and expanded our contract to include all of their assets. We now receive on average one dog complaint in the Ahmadi township per month, and we are able to rapidly resolve the complaint in most cases.
We use very complicated methods that require years to perfect, but here are the basics: At any complaint location, we first conduct an assessment of the dogs. Any dogs that are friendly (i.e. can be caught by hand) are transferred to the K'S PATH animal shelter in Wafra where they will get a chance to be adopted by a loving family. We then identify pack leaders and pack outcasts that will be very difficult to catch. Next, we deploy our equipment in a scientific methodology to catch the remaining dogs. Using these methods, we have been able to catch as many as 75 dogs in a single night.
What happens when we catch a dog? If the dog is friendly in the trap, we transfer it to our shelter. If the dog is not friendly, we embark upon a painstakingly meticulous process of humane euthanasia. As an animal welfare organization, our primary goal is to prevent the suffering of animals. While most of our other programs focus on education, wildlife rehabilitation, habitat protection, and animal adoption, our population control program must, by necessity, find a balance between public safety and animal welfare. In the case of stray dogs, this means that our responsibility is to examine the situation and find the most humane solution to the problem. A dog in one of our traps is therefore treated with compassion and dignity whether it is friendly, aggressive, or shutdown in fear. We cover our traps with tarps to make sure they are as calm as possible, and then we administer a surgical dose of anesthesia. Once the animal is under general anesthesia, we administer a lethal injection that painlessly causes cardiac arrest. This method is humane for the animal, safe for the technicians and the community, and extremely effective. Using these methods, we have secured contracts with KOC and Saudi Arabian Chevron as well as service agreements with multiple other companies.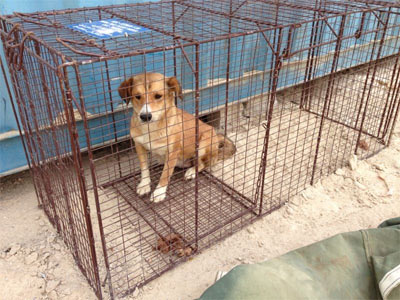 We introduced our program to demonstrate to the government of Kuwait that humane animal control could work in Kuwait and prove to be effective without requiring animals to suffer through the process. We have more than achieved what we set out to do. We are keen on and available to help the government to design a similar program, and we are inclined to undertake any amount of work or training that is needed to make the program function. I will offer a couple of points of caution, however. Our program operates at a very high standard because we care about the animals we work with and I require the utmost diligence from my staff. If the people employed in such functions do not operate from compassion for animals, then animals will suffer and the program will not be humane and therefore less effective. Further, animal control fails when undertaken as a business by a company – companies are driven by profit considerations and as such a company tasked with the removal of stray dogs cannot make money if all dogs are removed. Animal control programs around the world operate most effectively as a public service – no differently than a police department or an emergency medical service – with program funding optimally expended on quality equipment, trained staff, and operations; not for profit.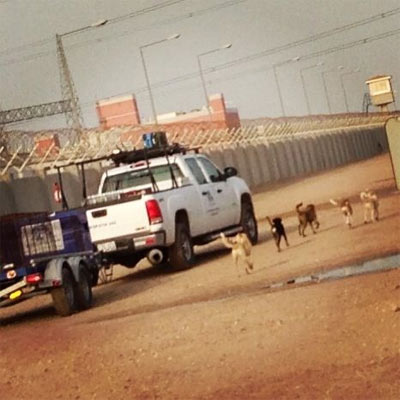 Given our limited financial patronage and human resources, we at K'S PATH have currently stretched this program as far as effectively possible. Our capability to expand is constrained by feasibility which presently affords us just two staff members across all operations of the program. Had we more staff aboard, we could have covered other areas in dire need of animal control, including the dogs at Khairan who attacked the little girl, and prevented the tragedy. Having pushed our operations as far as they can go, we can only continue to hope PAAFR will adopt our tried-and-tested program to keep our communities safe.
For further information on our program and how we can help, I can be contacted at john@kspath.org
Open letter to International Shooting Sport Federation
Post by John Peaveler
Managing Director
Kuwait Society for the Protection of Animals and Their Habitat (K'S PATH)
Note: Photos of the dog massacre taken from @animal_soulskwt