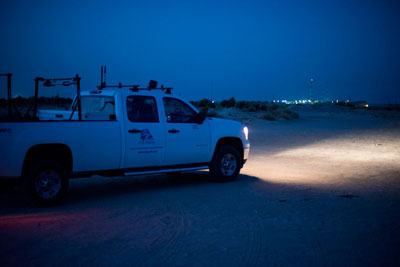 Last week I went on a tag along with John Peaveler of K'S PATH. It was a spur of the moment thing, I had emailed John during the day asking him if he had anything interesting I could tag along with him on and he replied telling me they had something that night and if I was interested I could join them but I'd have to basically sleep in the desert. So I did. I had no idea what to expect or what they were doing, all I was told was to bring some food in case I needed to eat.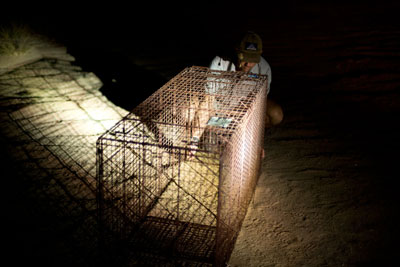 I headed out to a nature reserve in Abdeliah around 9 in the evening where I met up with John and his team. This nature reserve was a small protected area in the desert with some artificial lakes and plant life that were starting to flourish. It's a KOC funded project located right next to one of their water wells and it's a beautiful place that's attracting birds and other wildlife like desert mice and foxes. Since the reserve is also a few kilometers from Kabd, an area known for puppy mills and dog fighting, a lot of stray dogs from there wonder into the desert and dig their way under the fence into this nature reserve. The stray dogs end up scaring away wildlife and disrupting the ecosystem which is why K'S PATH was hired to clear the area from strays.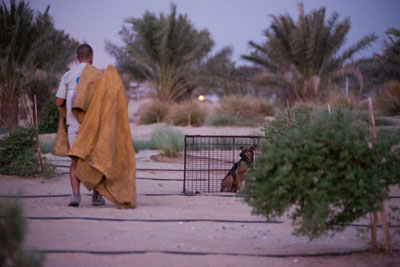 During the day the dogs tend to hide and take cover but during the night and early mornings they're out and about looking for food. I was actually pretty surprised to find dogs in the desert but turns out they live in the desert because it's safe and go into the city whenever they need food. K'S PATH had around 24 cages placed all around the reserve to try and catch the dogs and our evening was spent driving around and listening for dogs that might be caught in them. Once the dogs are caught there is a very strict procedure that has to be followed, one that is incredibly humane to the dogs:
1) Only one person approaches the cage
2) The cage is covered with a tarp so that the dog feels safe
3) No flash lights are used, only a very low intensity red LED
4) No loud noises, sticks or anything else that might scare the dogs are used
Once those steps are taken the dog is evaluated. If the dog is deemed friendly it is taken back to the K'S PATH shelter where the dog goes through further tests before being placed up for adoption. If the dog is deemed aggressive then the dog is humanely euthanized on location.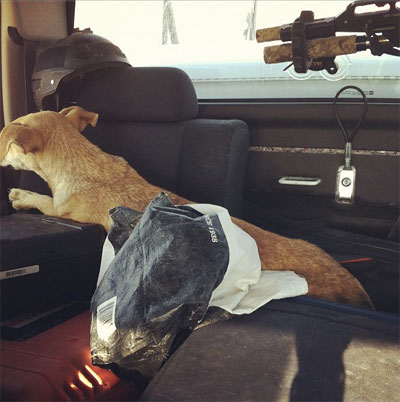 One of the dogs saved that night
Last year a program similar to this was done on a larger scale in Ahmadi. The dog problem in Ahmadi had gotten so bad that dogs where chasing people on the streets. KOC really had only two options, either get the government involved who would have poisoned the dogs similar to what they did in the Free Trade Zone. Or there second option was to get K'S PATH involved who would handle the situation in a much more humane manner and even save the dogs that could be saved. In the end over 1,000 dogs were captured and there no longer is a stray dog problem in Ahmadi.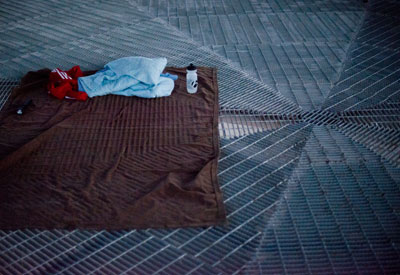 My not so comfy bed for the night
It was a pretty interesting evening and I managed to learn a lot. Best part is on the way back home the next morning I ended up capturing the surreal "Camels in the mist" shot. I'm hoping to do some more tag alongs with them so I can try and document their work which I believe needs attention. They're a non-profit organization are always looking for volunteers and donations so if you're interested in helping out visit their website [Here]