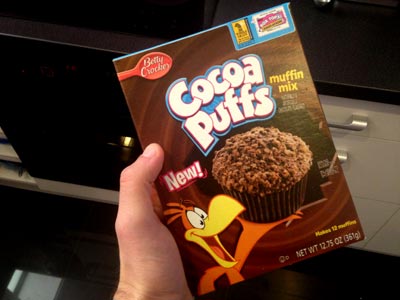 Spotted the above pack at Sultan Center and couldn't resist picking it up. After Sultan stopped getting Count Chocula, Cocoa Puffs became my favorite Friday morning cereal so when I saw this muffin mix I decided to grab a box to try out.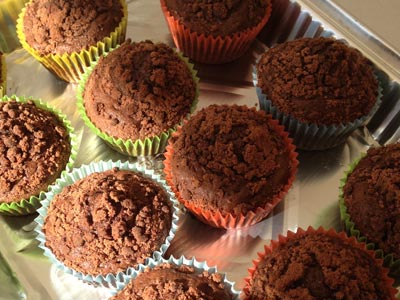 Making these muffins was super easy. There are two packs inside the box, one for the muffin mix the other for the Cocoa Puffs toppings. You take the muffin mix and empty it into a bowl. You then add an egg and some vegetable oil and mix it all up and that's basically it. You then just pour the mix into muffin cups, add the Cocoa Puffs toppings on top and bake the muffins for a few minutes in the oven.
The result wasn't that great. I thought the muffin tasted pretty good but the Cocoa Puffs toppings didn't actually taste like the Cocoa Puffs cereal. I actually would have preferred the muffin without the Cocoa Puffs toppings. What I would do next time is make a proper home made muffin (not the ready made stuff) and just add Cocoa Puffs on top from a cereal box.