Posted by Mark
Earlier tonight I passed by Ubon, the new trendy Thai restaurant that opened up in Kuwait City. I'm not a big fan of Thai food but the place is located in my office tower and the interior looks amazing so I had to try it. Below is what I ended up ordering.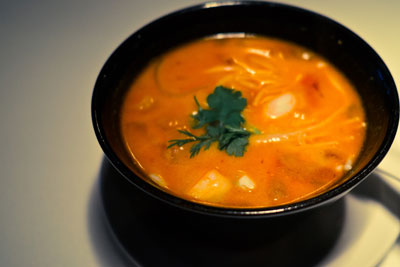 Tom Yum Goong Soup (KD2.400) It's a hot and sour prawn soup with mushroom and vegetables. I asked mine to be made medium spicy which turned out to be too spicy for my liking.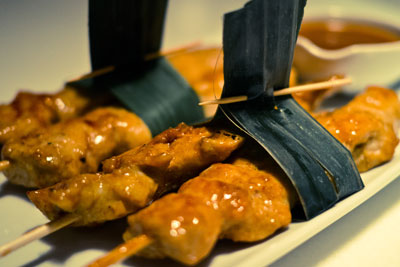 Chicken Satay Sticks (KD2.200) These were really great. I kinda wish the peanut sauce was a bit thicker but that's an issue I have with Thai food in general.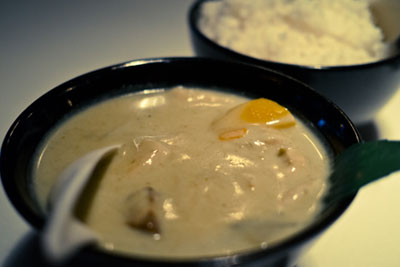 Green Curry Chicken (KD3.000) + Jasmine Steamed Rice (KD1.000) I loved this dish but next time I'm ordering it without the veggies.

Sticky Rice with Mango (KD2.800) This was the biggest surprise. I ordered it unwillingly since I didn't find anything else on the small dessert list. It didn't sound great (rice dessert?) and when it came it didn't look that appetizing either. But after scooping up a bit of rice with mango and taking a bite I fell in love with it. 99% of the desserts I have involve chocolate so it was extremely refreshing to finally find a chocolate free dessert that I can really enjoy.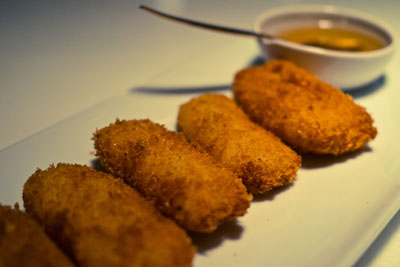 Fried Banana with Honey (complimentary) I originally wanted to order this for dessert but was told it wasn't available. After my Sticky Rice with Mango arrived they told me that the Fried Banana was available and they would serve it to me after the Sticky Rice. I'm honestly glad they had originally told me it wasn't available or else I wouldn't have discovered the Sticky Rice. The Fried Banana is a very safe option and wasn't that exciting. My recommendation would be to go with the Sticky Rice.
I had a good experience tonight and I can't wait until they start opening for lunch since it would be very convenient for me. Right now they're open from 6 to 11pm. Price wise they're very reasonable and the portions are pretty good. I'm glad someone decided to open something other than a burger or frozen yogurt place. Now if someone would open a small trendy Chinese restaurant.
To find out more about Ubon visit their website [Here]