Posted by Mark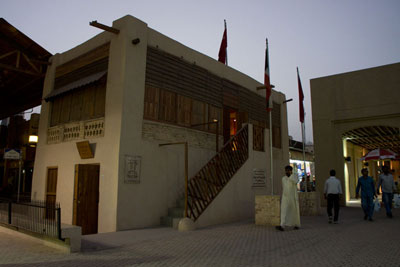 I'm currently in the process of reviewing the Sony NEX-7 camera so I was in Souk Mubarkia over the weekend taking some photos when I found the Mubarak Kiosk open and decided to check it out.
The function of the kiosk changed a lot over the years, originally in 1934 the kiosk was the first independent legal court in Kuwait. Later it was rented and used as a pharmacy an then as a post office run by the British. At the end of the 1950s the kiosk was used as a public library and 60s forward the top floor was used as a photography studio while the ground floor was turned into a samboosa shop. In 2010 the National Council for Culture Arts and Letters took over the kiosk and renovated it from ground up and turned it into a museum.
The museum is pretty small but that doesn't really matter. The fact that the kiosk was renovated and turned into a historical site is what's important and they really need to continue renovating more and more old buildings. It's not worth driving all the way to Souk Mubarkia just to visit this museum but if you're in the area it's interesting to see. They have an iPad on the top floor in the back corner that has a photo gallery of old pictures of Kuwait as well as pictures of the kiosk from the outside and inside before and during renovation. I thought that was very interesting and even tried emailing the photos to myself using their iPad but failed (didn't have access to the home button).
If you want to pass by here are their opening hours:
Summer Visiting Hours
Saturday to Friday
9AM to 12PM – 4:30PM to 8:30PM
Saturdays and Fridays they're closed in the morning
Sunday they're closed in the evening
Winter Visiting Hours
Saturday to Friday
9AM to 12PM – 4PM to 8PM
Ramadan Visiting Hours
Saturday to Friday
9AM to 12PM – 8:30PM to 11PM
(First days of Eid they're closed)
Update: Below is a picture of the kiosk taken by John Newton back in 2009. I can't believe how much the whole area has changed.