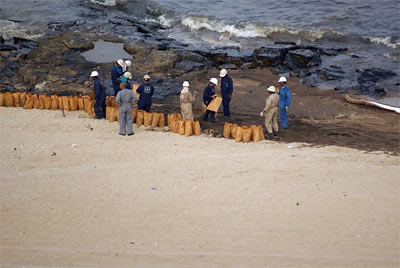 According to local blogger NicoleB there was an oil spill in Mangaf a couple of days back. I haven't read about this in the news yet so I am guessing they're trying to keep it a secret.
This morning when we went to the beach, I saw a bulldozer arriving and one car after another going to the beach. Getting closer I saw workers in coveralls walking along the shore, digging the sand and throwing stuff in the water to soak up the oil – I guess.

Some guys in a Pickup stopped beside me and told me not to let the dogs in the water, because there's oil. But it's not a problem. Mh. Right.

I checked the beach past Mangaf, direction Fahaheel. The oil was slowly arriving there as well.
I can't find any news online and probably won't at all.

Was down there this afternoon again, the workers were sitting on the beach. An oil spill response vehicle was there, two boats out in the ocean, but no action.
You can read her post [Here] and check out pictures of the spill [Here]