Posted by Mark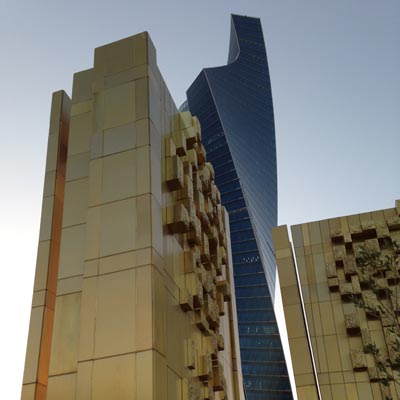 Last week I posted about how a tall metal fence was being constructed around Kuwait's Constitution Monument. Well a reader who I presume is somehow connected to the project left a comment explaining why the decision to erect a fence was made:
Initially the monument and the garden hosting it were supposed to be opened to the public, as the garden was designed to tell a story, the story of the state of Kuwait before and after the constitution. The side of the garden as you enter it from the Tijaria tower represents the past, you`ll see only desert plants arranged in randomly and in groups, planted in sand, representing the tribes scattered over the deserted area of the country. Once you pass trough the monument, which represents the Kuwait Constitution (and which is actually built from titanium plates electroplated with bronze and the bronze blocks you see on the monument are representing the articles of the constitution, one block for each article) you enter the garden representing the present, on the right, and the future on the left. The fountain to the right has few vertical sprinklers representing the oil-wells. The flowers are representing the people of Kuwait (diversity of flowers for diversity of people) and a stream of water that goes to the roots of the monument is the symbol of the will of the people feeding/changing the constitution according to the modern needs. The left side has a mirror fountain, still water, beautiful flowers; is the future of Kuwait.

This is how the park was designed/imagined by the architect.

All those olive trees were brought from Italy and carefully selected to look almost the same in shape and height. Flowers have been brought from outside most of them. The marble used for pathways is also from Italy.

A lot of work/expensive materials/money have been invested in this project. It was supposed to be a place for leisure/ relaxation.

Few days after it was inaugurated flowers/plants were uprooted, stones and plants thrown in the water olive trees with broken branches and the disaster continued. Two times the plants/flowers were replanted with the same effect on people (uneducated / unsupervised kids mostly).

As so.. the decision to place a fence around this area has been taken very easy. This fence will be in place until the second phase of the project (rehabilitation of the entire park) will start/finish.
In conclusion, THAT fence is there because of the people (not drawing a conclusion that all people are the same so don`t jump with lame comments, who wants to understand what i mean will understand; see Mark`s article related to the Zoo) not because someone wanted to stop access of the people to the park. Hopefully one day will be open for everyone to see and admire.