Posted by Mark
Originally I was planning to write a small post on my experience with the Synology backup drive and maybe compare it to my Drobo but in all honesty, the thing turned out to be a lot more than just a simple backup drive and so the tiny post has turned into a much bigger one.

Synology DS1511+ Web Interface

Firstly a quick brief about what the Synology DS1511+ is. In it's most simplest form it's an external backup hard drive that can take up to five 3TB hard drives and has data protection which means if one of the five hard drives fail my data is still protected. But the DS1511+ (from here on I'll just call it the Synology) is also a mini server and so doesn't require to be connected to a computer.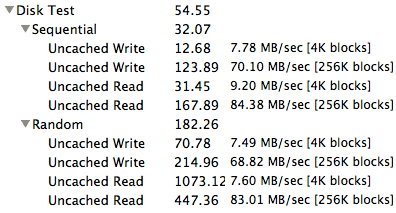 Xbench disk test

Performance wise the Synology turned out to be a lot faster than my Drobo. How fast? Copying a 2.48GB file from my computer over FireWire 800 to the Drobo took 4 minutes and 30 seconds. Copying the exact same file over gigabit ethernet to the Synology took just 42 seconds. That's over 10 6 times as fast!
So yeah if you're looking for a backup drive to put all your important files onto it and still have your data protected in case the drive fails, the Synology is great. But, the Synology is also more complicated to setup than the Drobo. Cost wise they're selling the Synology drives in Kuwait for cheaper than Amazon and you can find them at either Blink (where I got mine from) or Cameo. Cameo also has the newer but slightly more expensive DS1512+.
Now that I got all that out of the way this second part is what REALLY makes the Synology cool. Continue below for the second part of this review.
As I've mentioned a number of times before on the blog I use XBMC to access all my media files. I've been using XBMC since 2005 when I had it installed on the original Xbox and since then I've been using it on a number of devices including the the previous and current generation of AppleTV's and my personal favorite, the Acer Revo. I'm also obsessed with building a digital media library, no idea why it's something I started and can't stop. My files are very organized and a normal process for me looks something like this:
1) Search for TV show torrent
2) Download torrent
3) Expand the files
4) Delete all the files and just leave the video file
5) Rename The video file to the proper format (eg. Lost S01E01.avi)
6) Move the video file to the proper folder under TV Shows (eg TV Shows/Lost/Season 1)
7) Go to XBMC and click update so it finds the new episodes and adds it to the library
After installing a bunch of programs on my Synology, here are the steps I now take:
1) There are no steps
I'm going to get a bit more geeky here so bare with me. The whole process of getting shows, expanding, renaming, moving and updating XBMC has now become all automated because of Synology. I won't go into specific details on how to set everything up but I'll tell you what you need and what does what. First what you need:
1) Account with nzbmatrix.com
2) Account with astraweb.com
3) Synology
4) SABnzbd Software
5) Sick Beard Software
6) CouchPotato Software
NZBmatrix is going to replace your current favorite torrent site. NZB is a usenet format and one I now prefer over torrents. You then need to setup an account with Astraweb which is where all your files will be downloaded to before being sent to your computer.
On the Synology add the following source for packages http://synopkg.superzebulon.org/spkrepo/packages and then install SABnzbd, Sick Beard and CouchPotato.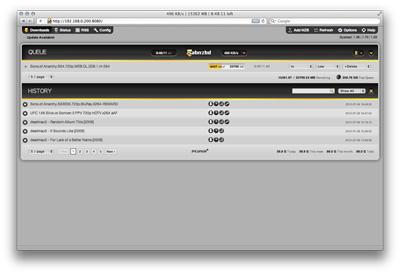 SABnzbd interface

SABnzbd is what will be downloading all your media (shows, movies and music) and this will have to be connected to your nzbmatrix and astraweb account.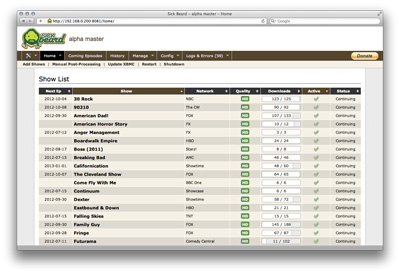 Sick Beard interface

Sick Beard is a software that will take care of managing and downloading all your TV Shows. First thing it does is scan your current library of shows and tell you what you have missing and if you want to download the missing episodes or just download the upcoming ones. So Sick Beard will basically automatically tell SABnzbd what shows and episodes to download without me having to get involved. Then once it's done being downloaded it will unrar the files, delete all the excess files, take the video file, rename it into the correct predefined format and then move it to the proper TV Show folder. Finally Sick Beard will send a command to XBMC and have it update the library to include the newly downloaded show.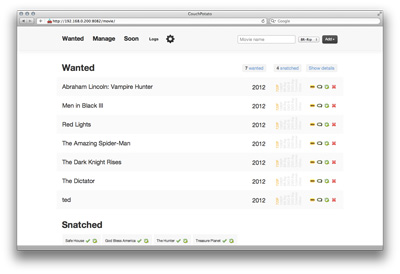 CouchPotato interface

CouchPotato is similar but for movies. What's great is that it connects to my IMDB account and adds whatever is on my Watch List to it's watch list so once it gets released it gets downloaded. I can also set it up to download any new movie that gets released that has for example a rating of 7 or higher on IMDB.

Sick Beard upcoming schedule interface
So although I originally got the Synology DS1511+ as a backup system it's now turned into something a lot more than that. It's automatically downloading and organizing my media library without my involvement. I love it. I know the above sounds a bit complicated but if you're interested in getting it setup but don't want to do it yourself I've got a friend who helped me with my setup who also offers the service for a small fee of around KD30. His name is Ryan and you could email him on ryan@kovid.tv
I went from a Drobo fan to a Synology fan overnight, I highly recommend the drive.