Posted by Mark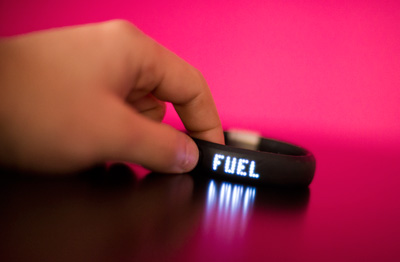 It seems everywhere I look someone is wearing a FuelBand on their wrist. Since I recently got one myself, I was curious to find out how accurate it really was. The Nike FuelBand is a wrist band that has an accelerometer built in that measures your movements through out the day. Movements like running, walking, basketball etc.. get translated into something Nike calls Fuel. You start off by setting a daily Fuel goal and the more active you are the more Nike Fuel you earn. The FuelBand turns activity into sort of a game or at least makes it more enjoyable by giving you a visual target (in this case Nike Fuel) which you want to reach at the end of everyday.
The device looks pretty cool and it has a small button which when pressed lights up LEDs inside the bracelet displaying your information. Every time you press the button you flip through the menu which includes your Fuel count, calories burned, steps taken and the time of day. If you hold the button down for a few seconds it syncs the data with your iPhone and Nike Fuel App. But is it accurate?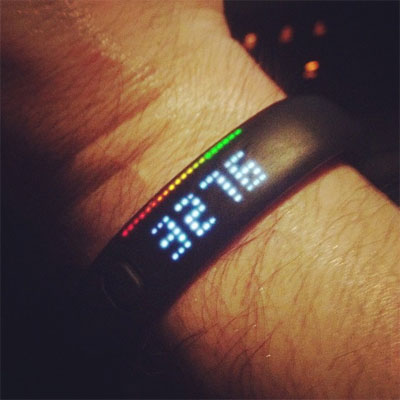 I decided to take the the Nike FuelBand on a run along with my Garmin Forerunner. While the FuelBand uses movement to guess how much exercise you're performing and how many calories you're burning, the Garmin uses a heart rate sensor and a GPS connection to more accurately calculate the same. The total distance I ran was 5.12KM and this is how each device calculated the calories burned:
Garmin: 407 calories
Nike FuelBand: 602 calories
So the FuelBand was off by around 200 calories and at a sport which it should excel in. But the result was actually more accurate than I was expecting it to be.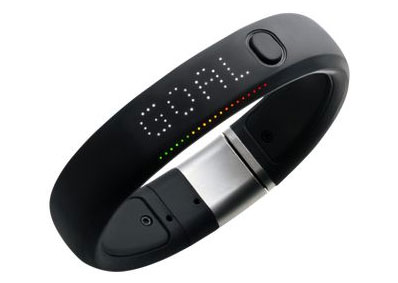 Does it mean it's useless? No, I don't think so. If you're already very active you most likely have a Polar or Garmin watch already which you wear to the gym or when running or riding your bike. The Nike FuelBand is more for people who aren't that active but want to be. It's something you could wear all day long and even though it's not really accurate, it does give you a ballpark figure which helps starters understand how much their movement is burning calories or how its helping their Nike Fuel. Most importantly it's a lot easier to use than most sport watches and the Nike App and website helps people visualize their activities and set higher targets.
The biggest issue I have with the device is the price. At $150 it's not cheap and costs as much as those dedicated sport watches that are much more accurate (my Garmin cost me $128). The Nike FuelBand isn't available officially in Kuwait right now but if you're interested in getting one the best (and cheapest) options are:
Amazon: Sells for around KD60 there [Link]
Nike Store: Sells for around KD40 there but it's a bit tricker to order. First make sure you are at the US Nike website. You can tell if you are by scrolling down to the bottom of the Nike page. If you see a US flag on the left you're there just go directly to the shop. If you don't see a US flag there then change it to the US store by clicking on the flag and then selecting the US. When you place the order you need to use an American Express card and then use your Aramex or Borderlinx shipping address as your billing address. I wasn't able to use my Mastercard to place an order, it just worked with my Kuwait issued American Express. [Link]