Posted by Mark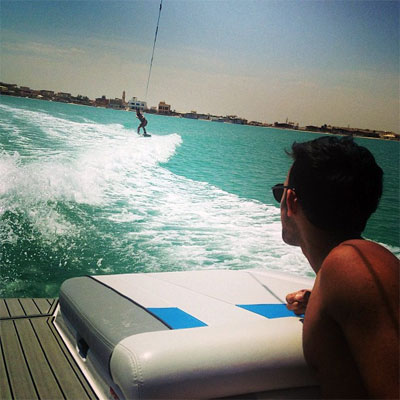 I already posted about wakeboarding late last year but since summer is here I figured I would repost about this for everyone that missed it.
The first time I went wakeboarding I wasn't expecting it to be that difficult. For some reason I had the impression it would be fairly easy to stand on the board while pulled by a boat and performing all kind of stunts. Turns out it wasn't easy and I spent the first 20 minutes just trying to get up out of the water and stay up before losing control and crashing into the water. It wouldn't be that bad if it wasn't for the fact every time I crashed I ended up swallowing so much water. After awhile you get the hang of getting up and standing on the board and then it becomes about how long can you stay up without losing balance. Once you get comfortable you start trying to change directions going left or right and the more comfortable you get the more things you end up trying to do. In my case by the second time I went wakeboarding I had pretty much gotten the hang of it.
While with jet skis you can just go out and rent one from a number of places on the Gulf Road, with wakeboarding it's not that easy. Last year when I wanted to try wakeboarding I did a bit of research and found out about Q8 Balance who for a fixed hourly rate will take you or teach you wakeboarding out in Khiran City. Since then I've been only going out with them since I like them and haven't really checked to see if there is any another group that provide a similar service. Q8 Balance charge KD35 for an hour so if you split it with a friend or two it becomes a fairly affordable and fun activity to do. Only issue I found with them is that they are pretty popular so you need to book a time slot way ahead of time.
So if you're interested in wakeboarding here is the link to the Q8 Balance [Facebook Page]
If you know of another group that also offers wakeboarding please post it in the comments below with the details.