Posted by Mark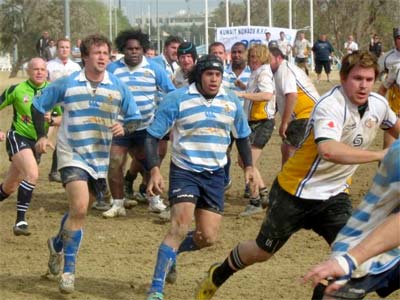 The Kuwait Scorpions who are probably one of the oldest sports clubs in Kuwait are looking to recruit men and women for their rugby team. If you're interested keep reading below for a small brief on who they are along with some other information.
Kuwait Scorpions is one of the founding clubs of Gulf rugby. The club originally consisted of a group of expats training together as a hobby. They then started playing similar groups in neighbouring countries and formally became the Kuwait Scorions Rugby Footballl Club in 1946. For years rugby in Kuwait continued in this way. Following the Invasion and surrounding events the rugby club gradually reformed (after most of it's members returned to Kuwait after the unrest) and were renamed as the Kuwait Nomads (mainly due to the style in which they reunited). We played as the Nomads until a few years ago when we returned to our original name and re launched the club as the Kuwait Scorpions.

We have several teams: Mens XV, Vets X and Ladies (who play 7s). The men play in both the Gulf Premiership and Conference Leagues, the women play in the Arabian Gulf Women's League and the Vets form for specific events and tournaments. All teams enter the Dubai 7s competition annually, where our men have reached both the final and semi final in recent years. We currently have players of a variety of nationalities and are truly a global group.

We are currently without an official pitch and training ground as KOC (our ground sponsor) have recently started a large renovation project that includes rebuilding our usual sand pitch and facilities in Ahmadi. Regardless of this our teams are still training twice a week and we are still playing in all of the above leagues. This is not the only exciting new development in Kuwait rugby this season – as Tron mentioned previously, we currently have a female Chairperson, which, we are informed, is a first in the history of rugby in this region. We also have a recently elected Kuwaiti Club Captain also, who is hoping to lead our teams to some well earned victories this year.

Last week saw us officially kick off our season with our annual fundraiser (Masquerade Ball) at the British Embassy, which was a great success. We are currently gearing up for upcoming matches for both the men and women in Doha in a few weeks time, which is alway a great trip.

We are about to embark on a big recruitment drive and are hoping to awaken some new interest in both the sport and our team. We welcome newcomers and those with experience and any member of the club will be happy to answer any questions or give directions to the next training session. Our website was unfortunately hacked over the summer and all of the informatiion wiped so it is currently under construction, but for now we are easy to find on Facebook or I can be contacted directly for more information (emmalclement@gmail.com).