Post by Mark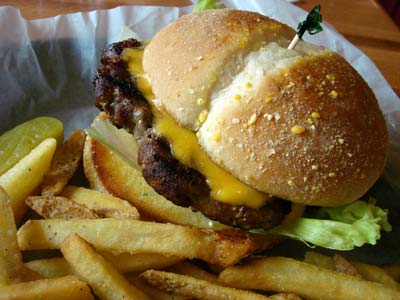 I've never liked Applebee's because I never had a good experience there. Whatever I ordered I ended up hating and their menu just didn't have as much variety as I wanted. Yesterday I passed by for the first time in over a year ago and things have changed considerably since my last visit. The menu has a lot more interesting stuff on it and probably the most shocking thing of all, I actually left the place satisfied and thinking about going back.
They had four burgers on their menu but I decided to go with the cheese burger since the other options were a classic burger with no cheese, a cheese burger with bacon, and the last burger was I think a Hawaiian burger with Pineapple (gross!). All the burgers are made using a 100% Angus Beef and cooked medium well.
My burger arrived 10-15 minutes after placing my order and after a few bites I realized that although the Applebee's burger isn't good enough to be a contender for the top spot, it was a pretty good burger. It tasted and smelled like it was grilled on a backyard barbecue which is a good thing because barbecued burgers always taste good. The burger was not super thick but was still very juicy and the cheese melted perfectly. Now one thing I found weird although it didn't have an effect on the taste was that it felt like I was biting into a steak and not a burger. I don't know if thats normal with Angus beef but it just felt weird.
Overall though there wasn't much wrong with the burger. It didn't have this "oh I need to have another one right now" taste to it which is why it didn't score any higher. But it did score pretty high because I'm giving it a 3.5 out of 5 which puts it inline with the Fuddruckers burger. That alone is an achievement.

Applebee's is located on the Gulf Road, Mishref and Souk Sharq.
The cost of the Angus Cheese Burger was KD2.150
Previously Reviewed:
Bredz
Fuddruckers
Hashi
Johnny Rockets
Munch
Prime & Toast
Slider Station
Sheraton Hotel
The Little Oven
Wimpy