Posted by Mark
So I have had the 2007 Infiniti G35 for three days now and its really grown on me. There are a couple of things I like about it and a couple of things I dislike about it, here is my list so far:
- Key-less entry. I have a small key chain I keep in my pocket, once I touch the door handle the car gets unlocked. Whats cool is when I had the key chain in my jacket pocket and I kept my jacket in the car and I tried to lock the doors it wouldn't lock, the car knew the key was inside the car not outside it. What I dislike is when I touch the door handle only the driver side door unlocks, I need to unlock the other doors using the door unlock button located inside the car.
- Reverse camera. I first saw this on the Infiniti Q45 two or three years ago and now its becoming standard on more and more cars. If only there was a way to activate it without going into reverse, it would be a cool way to spy on the people in the car behind during traffic.
- Sound system. Its Bose which I dislike but surprisingly its pretty beefy. Loads of speakers scattered all over the car and the bass isn't lacking. Car also has video and audio RCA inputs so you can hook up your iPod Video and just watch videos or listen to music on the screen.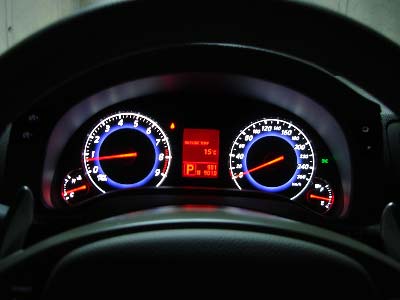 - Steering wheel. Its covered in thick hand stitched leather and it gives the car a very lush feel.
- Center console. Its a love hate relationship. It feels very Japanese which I dislike. I prefer the design of the Europeans. The interior of the Infiniti reminds me a lot of the Lexus which makes sense since its also a Japanese car.
- BLS or G35? Easily by far the G35. I think I will post a more detailed comparison later.
- Acceleration. 0 to 100km in just 5.3 seconds, do I need to say more?
I can't believe I have to give this car back in a few days.

update: found a bunch of settings I can change using the settings button on the console. I figured out how to turn on the option that allows all the doors to open when I touch the door handle, I also found other nifty options like how dark should it be before the car lights automatically comes on and other little things like that.