Post by Mark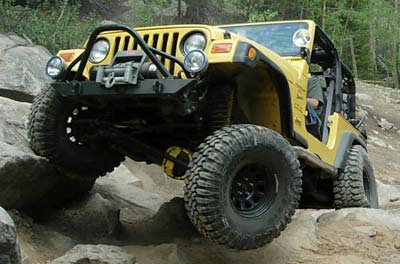 I am planning to lift my Wrangler and install larger 33″ tires on it. Late last month I got the tires which I expected would be the hardest thing to get until recently I realized getting new black steel wheels are even harder. I wanted either American Racing or Cragar black steel wheels. I found an American Racing dealer in Kuwait but they didn't have anything I was interested in and if I wanted to place an order for wheels they would only be delivered in August or September. So I decided to check and see what I could find in Dubai, I gave Icon Auto a call and they didn't have what I wanted either. The only option I had left was to order the wheels from the US and ship them to Kuwait but 5 steel tires would weigh a ton.

Each wheel weighs 12KG and five wheels would mean a total weight of 60KG. Shipping them with Aramex or USWS would cost me around KD200 which is a ridiculous amount to pay specially when my five wheels combined would cost me only KD50. Surprisingly though it turns out its a lot cheaper to have the stuff shipped directly from the supplier in the US to Kuwait. I just ended up ordering five Cragar 342's (pictured above on the Wrangler) for $215 from Quadratec and shipping them to Kuwait will cost me only $353 with Fed Ex. Thats not really bad at all and I am extremely surprised. Once my wheels get here the third and final thing I need to do is order the lift kit.
Update: Added more pictures of the same rims on other Wranglers which you can check out by clicking on continue.