Posted by Mark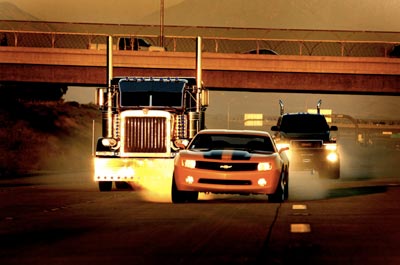 Disappointed, thats one way to summarize the movie for me. Maybe I was hoping the movie would stay true to the original cartoon or maybe I was hoping more then just a handful of transformers in the movie but whatever the reason is I didn't like the movie.
Firstly I think there really wasn't a proper story. To me it looked like the movie was written around the fight scenes. Its as if they went ok, we need to have one big fight here, two big fights there, a small one here and a nice big one in the end, now go write a movie. I know this movie is just an action packed movie with special effects made for the general audience but after Lord of the Rings this is no longer an excuse. You can have amazing special effects, lots of fight scenes, great characters AND a deep intriguing story and still make it mainstream and a box office success. Seriously with a franchise like Transformers how hard could it have been to write a proper script?
My second problem is the actual Transformers, they neither resemble nor act like their cartoon counterpart. I hate the super detailed industrial look of the movie robots, I prefer the sleeker and simpler cartoon version. Another thing, Megatron is supposed to be a gun not a plane, Ratchet is supposed to be white (thats why my MacBook is called Ratchet), Bumblebee is supposed to be a VW Beetle and Starscream is supposed to be annoying as hell! I used to love watching Megatron and Starscream argue with each other in the original cartoon but it doesn't happen in this movie. I can't help but feel this movie should have been an epic not a quickly scrambled together movie. Look at Star Wars and Star Trek! Because the story was short but the fight scenes extremely long, we never got a chance to get close to any of the Transformers, maybe Bumblebee since he had the largest role but he also hardly spoke. All of them actually barely had any speaking lines! My favorite part in the movie without ruining it for people who haven't watched it is when the Transformers went to the guys house to get "the thing". There were a bit of funny moments there and we got a feel of the different personalities of the robots but that was it, no other scene even got close to that.
Also, whats up with the heavy advertising in the movie? The guy is video conferencing with his wife and there is a huge ass "Cisco Networking" logo on the screen, a Transformer crash lands from space and visits the Pontiac dealership, another a Hummer dealer. Oh and they are ALL American cars! They took Bumblebee, a German VW Beetle and turned him into an American Cheverolet Camaro. Later in the movie you also have the Sprite machine and Xbox 360 transforming into robots which is fine if all these incidents above happened casually but instead they were very obvious which I felt was tacky.
On a positive note I really enjoyed the acting of the main kid in the movie and the visual effects of the robots was just incredible. The movie was fun to watch but I wouldn't watch it again. My final score is a 3 out of 5.