Posted by Mark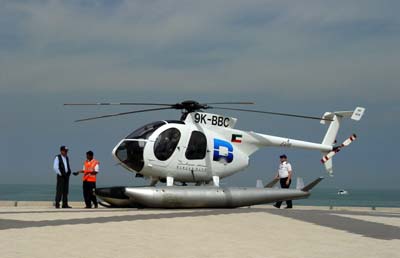 Susan, a regular reader of the site recently went on a sky tour of Kuwait and this is what she had to say about it:
A recent start-up called Kuwait Sky Tours is now operating in Kuwait and taking passengers on 15-minute helicopter rides at a cost of KD25 each. The 15-minute flight takes off from the helipad behind the Sultan Centre restaurant on the Gulf Road, travels up to Green Island and then back down to the Amir's Palace in Salwa, before returning to land. It is a great way too see Kuwait from a different perspective. The helicopter is a MD 500-E and seats 3 adults. There is space for a child or a very skinny person between the pilot and front passenger. If you want to go, give Steve a call on 705 6666. They also fly from Khiran and Failaka on occasion. Cameras are allowed.

You can also go on a larger helicopter, for an hour-long flight for the princely sum of USD1,500. Or, try the executive jet, which is ready to fly you and 13 of your friends to any destination in the world! Don't know that price; I was too afraid to ask!

P.S. Don't talk into the headset during the flight. The pilot told me off!
Here are Susan's pictures from her trip:
The Helicopter
Looking North West
Marina Mall and Marina Hotel
The Scientific Center
View of Salmiya
The Gulf Road and Kuwait Towers
House in Salwa
Radisson SAS