Posted by Mark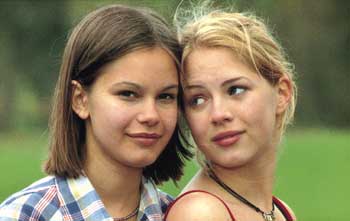 Fucking Åmål
I watched two movies this weekend which were very good and thought I would share them with you. The first movie I watched was Fucking Åmål. Its a Swedish movie with nothing to do about fucking so don't let the title fool you. They mean fucking as a sign of frustration. Here is the plot summary from IMDB:
Åmål is a small insignificant town where nothing ever happens, where the latest trends are out of date when they get there. Young Elin has a bit of a bad reputation when it comes to guys, but the fact is that she has never done *it*. Another girl in her school, Agnes, is in love with her but is too shy to do anything about it. For different reasons, Elin ends up at Agnes' birthday party as the only guest. They have a girl's night out together but after that Elin desperately avoids Agnes, refusing to even consider her own homosexuality.
Fucking Åmål is one of the best movies I watched this year. There is no nudity, there is no violence, there is no sex and there are not hot Swedish blonds, but nevertheless it was a great movie to watch and it never felt slow or dull. The story was very well written and watching Agnes go from sad and lonely confused girl to a confident and happy lesbian was somehow exciting to watch. I guess the fact that she was Swedish AND lesbian could have made things more interesting but I think it had to do more with the fact that the movie is Swedish and so it was interesting to watch the lifestyle of their high school students. If this was an American movie I don't think I would have enjoyed it as much. Anyway watch it if you can, I am giving it a 4.5 out of 5.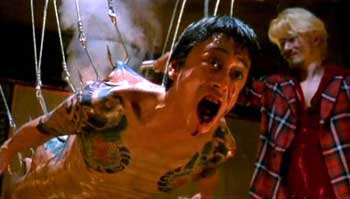 The second movie I watched was Koroshiya 1, (Ichi the Killer). I had had this movie on my wish list for over 2 years now and I was finally able to watch it. The reviews I had read about the movie said this was one of the most violent movies ever made and I have to agree with them. I don't think I am going to go to Japan anytime soon after watching this movie since I no longer think of them as quiet polite people but more like psychotic violent killers (I am joking here don't send me hate mail). Here is the plot summary from IMDB:
Yakuza boss Anjo disappears with three million yens. His loyal gang members, lead by the masochist Kakihara, start a search, but their aggressive and gory methods worry the other yakuza gangs. Kakiharas most scary counterpart is the mysterious Ichi, a psychopathic killer with a dark childhood secret, who is controlled by a retired cop.
If the site of blood makes you queasy, if torture scenes make you feel sick and if watching internal organs get splattered all over the wall makes you puke then I would not recommend you watch this movie. You will see allot of everything I just mentioned and more. The director Takashi Miike is one sick mother fucker and I think thats why his movies are so incredible and like nothing else out there. Quentin Tarantino's movies look like a school girl dressed in pink carrying a Hello Kitty backpack when compared to Takashi's movies. The torture scenes are extremely gruesome and even if you cover up your eyes theres no escape since the sound is just as horrifying. Ichi the Killer with all the violence and blood had a good plot and the star, Ichi is just really fucked in the head. The whole movie was fucked in the head and thats why I couldn't take my eyes off the screen for a single moment. It took me a while to get a hold of this movie but I am really glad I was able to since it was really worth watching. I am soo watching more of Takashi's movies now..