Posted by Mark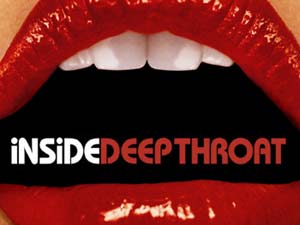 Yesterday I had time to watch only one movie, but it was a good one. Yesterday I watched Inside Deep Throat which is a documentary on the super famous porn movie, Deep Throat. I watched Deep Throat back in 1992 and I liked it, not because it meant anything deep to me or that it was the best porn movie I had ever watched, back in 1992 I think Deep Throat was the ONLY porn movie I had watched. I didn't find out about the importance of Deep Throat until much much later and after watching the documentary yesterday I can't wait to rewatch the original movie again. Here is the plot summary of the documentary from IMDB:
It was filmed in 6 days for 25 thousand dollars. The government didn't want you to see it. It was banned in 23 states. It has grossed over 600 million dollars. And it is the most profitable film in motion picture history. More than 30 years after Deep Throat's provocative debut, this documentary examines the legacy that the most profitable film of all-time left on society.
Unlike Born Into Brothels, this was not some average boring documentary. Inside Deep Throat is a really well produced movie and its visually very funky. It was also hilarious to watch. I never imagined the people behind the movie had such a great of sense of humor, everyone from the producer to the actors to the production guys. I also never knew how great the impact of Deep Throat was on society until I watched this movie. It really shook up allot of things back then. And then they also talk about how the mobsters were involved with the movie and how they were profiting from it and burning down theaters that weren't paying them half of the profits. The movie is just loaded with so much information and its all presented in such a cool way. I also wouldn't call this documentary a porn. Yes there are a couple of quick shots from the movie but they are not trying to turn you on or anything. The quick scenes are just to give you a glimpse of what Deep Throat was.
For those of you living abroad definitely watch this documentary, even if you haven't watched the original Deep Throat before. For those of you living in Kuwait you can download the documentary from any torrent site like TorrentSpy and ThePirateBay.