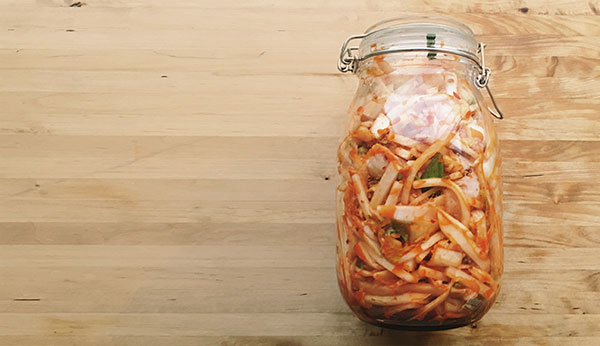 At PantryBee we like to think that we know a thing or two about food, sourcing it, cooking it, and more importantly eating it. Mark has given us this platform to share some of our favorite food things, be it restaurant recommendations, general know how, our favorite recipes, books and more. For our first post we thought to start with a cuisine we love. If you've seen any of our past Korean dishes on site you'd know that we are hardcore Kimchi lovers at the PantryBee kitchen. Kimchi is a traditional Korean staple made with seasoned fermented vegetables and salt that Koreans have with pretty much every meal. The word "kimchi" evolved from the Korean word 'shimchae' which means 'salting of vegetables'.
Kimchi is one of our favorite superfoods out there. Because of fermentation it's rich in gut healthy bacteria, vitamin A, vitamin C, as well as being low calorie, high fiber, and jam-packed with antioxidants. Though it takes a long time, making kimchi is pretty straightforward and simple and we really recommend everyone give it a go once.
Kimchi can be prepared in a multitude of ways, with different spice levels and using a variety of vegetables. The most classic version is made with cabbage and is super easy to recreate at home. The recipe below is a classic and highly recommended for your first go. If you don't feel like making your own head over to Singarea to get your fix as they usually have a couple of varieties to choose from.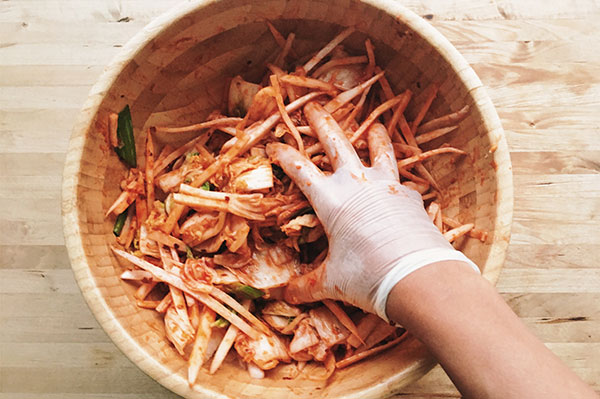 Easy Kimchi – Yields 3 cups
1 large head Chinese/Napa cabbage approx 500grams (available at lulu, sultan, and Saveco)
1/2 cup salt
1/3 cup rice vinegar
3 Tbsp gochujang (this is a korean red chili pepper paste available at Singarea)
2 cloves garlic minced
2 Tbsp red chili flakes
Cold water
1 inch piece of ginger finely minced
3 spring onions cut into 2 inch pieces
1 daikon radish cut into matchsticks
Directions
1- Cut cabbage lengthwise into quarters removing the core then chop into bite sized pieces.
2- In a bowl add cold water and soak cabbage throughly before draining and transferring to another bowl. sprinkle well with salt turning every 30 mins for 1.5 hrs to make sure cabbage is salted evenly.
3- After 1.5 hrs Rinse well with water making sure to get between the leaves we recommend rinsing at least 3 times .then drain and set aside
4- Mix together the vinegar, gochujang, garlic, ginger in a bowl.
5- Add the cabbage in handfuls to the bowl, squeezing them of any excess water before adding them to the mixture. Add the spring onion and daikon and mix well.
6- Pack into a jar with a tight cover and let sit at room temperature for 2 days then chill in fridge for 4 days before serving.
Post by Hind
CoFounder of PantryBee where home cooking is made easy.