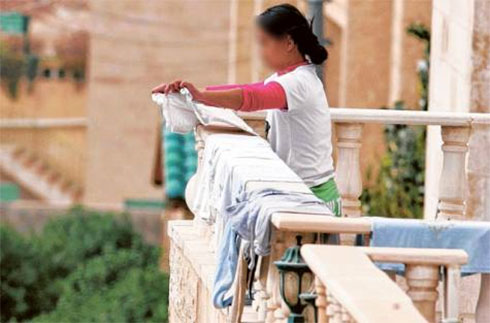 There's an estimated 600,000 domestic workers in Kuwait and it's no secret locally and internationally on how some domestic workers are being treated like slaves in Kuwait (and in the region). I don't know if the majority of house help in Kuwait have access to internet, but I get a fair amount of emails asking for urgent help. From being kicked to being burnt to working 20 hours a day with no medical access and obviously they're held as prisoners. In some ways it is modern day slavery.
What makes it worse is that there are no concrete laws designed to protect domestic workers in Kuwait. Domestic workers do not fall under Kuwait Labor Law for the private sector, I don't want to get into the legality of it as it is complicated and really not useful. Do we really need laws to act human? (I don't know, maybe the philosopher Kant was right)
I am going to write it out, even though it should be common sense
1) 8 hours a day, within reasonable timings. They are humans, they require rest.
2) No physical abuse! No emotional abuse! If you don't have something nice to say, don't say anything at all.
3) Give them their passports, you cannot legally keep them.
4) Give them a day or maybe two a week off. Yes off, and off means they can leave the house if they want to. If they want to go to the movies at Cinemagic then they can.
5) They aren't slaves, don't lock them in.
6) They aren't your 14 year old daughters, if they want to date guess what? They can.
7) Give them reasonable pay. 50KD a month is not reasonable, just cause its reasonable in India (where they might be from) it is not reasonable here. They work and live here.
I am sure there are much more things you can do to make their lives better, if you live in a house and your house help are being abused feel free to email me. (I won't tell your mum, strictly confidential). If you are a domestic worker, also, feel free to email me as well [email protected].
I am also happy to announce that I am working with the Social Work Society of Kuwait. The society does advocacy work and provides social and legal services for the vulnerable population in Kuwait. Currently most of its efforts are focused in providing advocacy and protection for migrant workers. Kindly note, that your emails will be confidential but will be forwarded to them, so I will not be the only person handling your case.
Post by Fajer Ahmed – Legal Counsel
The legal opinions expressed in this post are those of the author Fajer. Opinions expressed by Mark or any other writer on mark248am1.wpenginepowered.com are those of the individual's and in no way reflect Fajer's opinion.
Photo from GulfNews