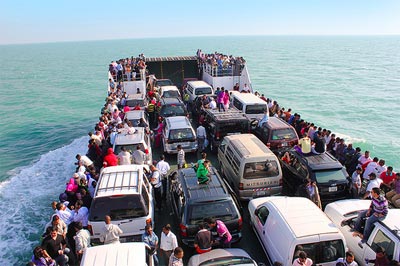 I got the following by email but have not verified this:
More than 150 visitors to Failaka Island including small children and women were stranded at Failaka Island on Sunday, 26th Feb. The visitors all of whom went to the island using KPTC's ferry from Salmiya in the morning were told that the return ferries would arrive at 3:30 pm and the last one would be at 4pm. The people who arrived early to get a seat on the ferry had a surprise. There was no sign of the KPTC boat at either 3:30 or 4 pm. The tired crowd was informed by someone that a boat would arrive at 5 pm. But around 5:30 pm when the boats still had not arrived some one in the crowd contacted the KPTC's office in Salmiya only to be told that there would be no boat arriving as the boats were blocked from leaving the Salmiya jetty because their licence had expired!!!

The people who had bought return tickets on the KPTC ferry were left high and dry on the island with no other mode of transport available nor any alternative plan made by the KPTC to help the stranded passengers. Someone called 112 and were told that they could not do anything about the situation. Finally at nightfall some of the people managed to contact friends and relatives in Kuwait and managed to get some private boats paying exorbitant prices just to be able to leave the island and reach home. Some including ladies who could not afford the boats were still on the island waiting for the ferry which one report suggested might arrive the next day!

– CD
If this is true then it's messed up.
Failaka Ferry Photo unrelated and taken by Jafar