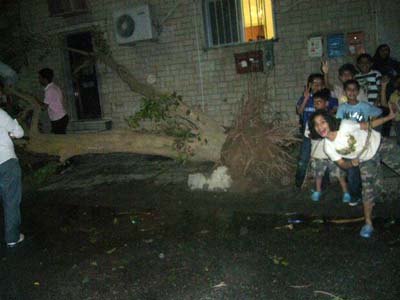 Ok, I got the power back on in my flat. Although my windows were all closed dust still managed to come into the house and now EVERYTHING has a layer of sand on it. I couldn't see ANYTHING outside my window. When I first heard the wind I looked outside and I saw a cloud of sand literally sweep into my block like a huge wave, something I've only seen in movies. Within second visibility dropped down to like 10cm, I couldn't see ANYTHING outside. That extremely powerful wind with dust continued for a couple of minutes before I started hearing a banging sound on my window. I stepped back thinking whatever was hitting my window was going to break it but then I noticed it was rain drops. In a few seconds it started raining really strong and the dust cleared up but then I noticed the rain was so powerful and in such large quantity that water started pouring into my apartment like a waterfall from the window sill. I quickly grabbed a ton of towels and started to do what I can to hold back the water. Once I got that under control I called Nat up to see if she was ok.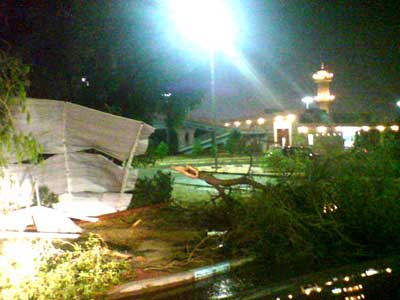 Nat was at the gym when the storm hit and she was extremely pissed. The power shutdown at her gym and when they tried to exit the building all exits were locked. The elevators stopped working so when they took the fire escape all the exits were blocked. Her and the other gym members are EXTREMELY pissed off now because if there had been a fire they would all have been fucked. And its not some small shabby gym, this happened at Flex!
Anyway I would like to thank susheeh for naming this storm Hurricane Kuwaitina. How hard were you guys hit? Post your experience in the comments below.
If you have any pictures email them to me: [email protected]
Update: I am uploading all the pictures I get to a photo album which you can view by clicking [Here]