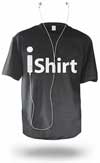 PodBrix has launched a new site called PodShirt.com to sell shuffle integrated apparel. The first product is the iShirt. Similar to the PodBrix Brixwear 1000 shirt, the iShirt features an integrated patent-pending magnetic clasp system to secure your iPod shuffle to the front of the shirt.
No modification is needed to your iPod shuffle. Simply place it over the clasp area of the shirt and it locks into place. The shuffle stays firmly attached even with vigorous activity. A quick pull easily removes it from the shirt.
PodShirt is the extension of the Brixwear 1000 concept into other styles. We wanted to be able to create a variety of designs using the shuffle clasp system and not be bound only by the style concepts of PodBrix.
The iShirt is NOT a limited edition. It is available for purchase now at PodShirt.com for $28.99.