Posted by Mark

Yesterday I installed Tiger on my PowerMac G4. It wasn't very easy. The problem I have is that my PowerMac can't read DVD's and Tiger came on a DVD. To solve the problem I figure I could put the DVD in Nat's PowerBook, then connect her mac to mine by booting hers up in target disk mode. When I did that though I only was able to see her hard drive and not her DVD drive. Then I decided to try something else. I opened up Disk Utility on Nats PowerBook and in the options chose to create an image of the DVD and saved it on her Hard Drive. A few minutes later I had a 2.3GB image file of the DVD. I then connected a mini ipod to the powerbook, and in disk utilities chose to format the ipod. I then told it to restore an image onto the ipod and chose the Tiger image which I had just made a few minutes earlier. This move basically turned the ipod into a Tiger boot disk. I then plugged the ipod into my Powermac and a finder window opened with the Tiger setup file. I double clicked on it and it told me I needed to reboot my mac. Once it restarted it loaded up the Tiger installation and i proceeded to install tiger on my mac.
The Problem
After finishing installing Tiger I booted up and everything was working fine. When I tried to connect to the internet though it gave me a modem error, something about it not being turned on. I look at the modem and it was blinking red instead of the usual green. Turns out the DSL modem drivers are not compatible with Tiger. To solve this issue I went to Hawalli and purchased a DSL Modem with a built in wireless router for KD30. I then came home and set it up to connect to the internet and share it across the network. It worked. Now since the new DSL modem does not require a computer to be connected to the internet, I can now reboot my mac and shut it down whenever I want without it effecting anyone on my network. Previously I had my powermac connect to the internet and share the connection over the network. That wasn't practical because if I rebooted or shutdown my mac for some reason, the internet would disconnect.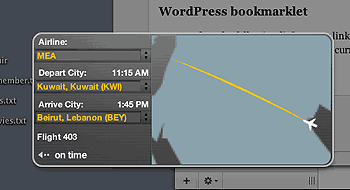 Tiger Experience
I have been using it for a short while now and things seem a tiny bit faster. When I first booted up Tiger it was a bit slow doing stuff because Spotlight was trying to index my whole drive. Once it was done indexing things came back to normal. The new mail program looks a lot more cleaner and cooler. Dashboard is interesting, my favorite widget is the flight tracker. It actually shows me the departure and arrival time of any flight plus where the plane currently is on the map. I might post a more fuller review later on but so far I like Tiger.
My Mac Specs
Graphite PowerMac G4 733MHz
1MB L3 Cache
896 MB SDRAM
Update: someone made it aware to me that I could have booted the powerbook using the Tiger CD and put my powermac in Target Disk mode. Then on the powerbook when it asked me where I wanted to install it I could have chosen the drive from my mac. Might have worked and been quicker.