Posted by Mark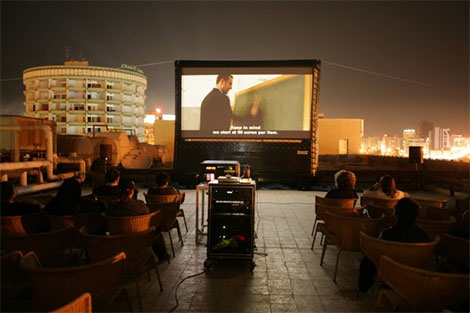 This weekend it's the Independent Palestinian Film Festival at Cinemagics. If you're passing by Shakshooka tonight you might as well pass by Cinemagic and watch a movie on the roof since it's right next door (Take the elevator up to the roof between LG and Panasonic). Here are the movies for this weekend:
Thursday November 28th, 2013 from 6PM to 10PM
Independent Palestinian Film Festival Day 1
Ajami
Nominated for an Academy Award in the Best Foreign Film Category, Ajami is a poignant portrait of Palestinian Muslims and Christians living in an impoverished district of Jaffa
Budrus
A worldwide crowd-pleaser, this documentary is a testament to the potency of peaceful resistance & the human spirit. Budrus will dispose of any preconceptions one may have of the conflict.
Saturday November 30th, 2013 from 6PM to 10PM
Independent Palestinian Film Festival Day 2
Amreeka
A strong single mother and her son leave the West Bank to search for greener pastures in America. They are naively unaware however that they have left post-Intifada Palestine only to enter another hostile territory, post-9/11 America.
Promises
Of all the countless films revolving around the Israel-Palestine conflict, none are more compelling than this Academy Award nominated documentary. The resin being that Palestinian children, who of all others are affected the most by the war, are rarely provided the luxury of expressing their thoughts and emotions in front of a world audience.
For more information on Cinemagics rooftop movie nights click [Here]