What do you get when you put the guys from Radiohead in a gahwa, in Salmiya, watching the old Star Wars movies, drinking guava nectar instead of tea? This could take a while, but for the sake of this post, I'll give you the answer; Galaxy Juice. That's exactly the feeling I get when I listen to their new release single "Allokation" off of their new album Timenesia which will be released Nov 1st .
Back to my opening question, can you see it? I mean, how does one make Galaxy Juice? Aren't you just a little bit curious? I was. So I paid them a little visit.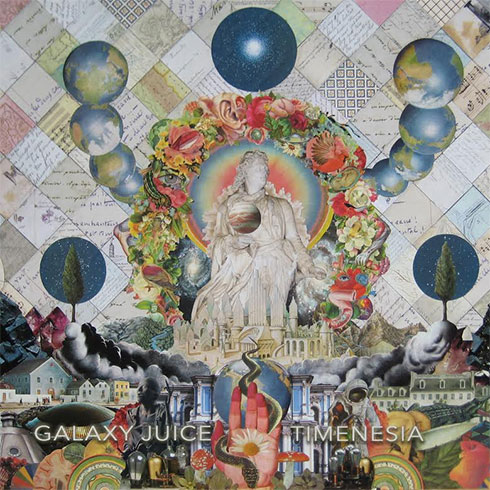 Before Timenasia, there was Crystal Dunes. The story of the making of Crystal Dunes is one that plays right into last week's post, where I talked about the difficulties artists face in trying to "make it" in the music industry in Kuwait. When Crystal Dunes was made, naturally, these guys wanted to print copies – to sell, to give out, to use as coasters or whatever else – you get the idea. But when they approached record companies here, they were told they could only print a minimum of 1000 copies. At the time, the band didn't feel like they had the kind of demand that would require that quantity and tried to negotiate them down to about half that, but even then, the prices they were getting were obnoxious. So, the next logical step; print it outside of Kuwait – to the U.S. they went. There, they found a printing company that kept their overheads nice and low, where they were able to print 100 copies. Perfect.
Back in Kuwait, when their order arrived, and as Mohammad Al Owaisi, (Drums & Synthesizers), tells it; he'd receive online notifications that his "package has arrived" but is being… you guessed it, "held at customs". This "hold" starts feeling more like a "keep", and so, he heads to the Customs Department at the airport. Now, before they could get into the details of "what's the hold up?" they first had to locate this package. And so the search begins for this box, in a room full of other boxes, in a back office in the back of this office – they never find it. They hand him a note that basically states; because of the contents of the shipment, the package has been sent for inspection, please follow up with the Office of the Ministry of Information. Still on airport premises, he makes his way to the temporary "chinko" structure that is the Office of the Ministry of Information, far out into the horizon, off the path. As he stood in a room full of more boxes waiting to talk to someone, his eye catches his box. Finally! And, as though the universe and the stars were finally aligning, a man appeared from the back. They spend a couple of minutes talking about the box, the contents of the box, the quantity of the contents of the box, the motives behind the contents of the box, all the while Mohammad trying to explain that these CD's are for distribution purposes only, and not intended for sale. Nevertheless, it's a no go. With one copy of Crystal Dunes in hand, he's redirected to the Ministry of Information HQ in Shuwaikh.
Day 2, Ministry of Information HQ. Like a sad song on replay, Mohammad goes through the saga of explaining; we're a band, we make music, we wanted to share our music, we like CD's, we wanted to give people CD's. "So, is it just music, or do you sing?" the lady asks. "We sing". "Yeah, we're going to need to see those lyrics. Can you email them to me?" Mohammad goes home and emails her the lyrics.
Day 3, Ministry of Information HQ. He heads right back to the same lady, the only released copy of Crystal Dunes still in its plastic wrapper sits on her desk, unopened. The lyrics pass the censorship requirements. It's a go! But, not until he is made to sign a memorandum of understanding, (ta3ahud), somewhere between an apology and a promise to never do that again ie. bring in products with the intent to sell or distribute. Approval letter signed and stamped, he heads back to the customs office at the airport, ready to finally take his babies home.
But, back to the ta3ahud for a minute. I'd understand if their only concern were that of a commercial nature, but they seem to also have a problem with just plain distribution. Why is that? Is it because they're afraid that with enough of a following, a band has the potential to create propaganda? Or, maybe they don't want to bring outside competition inside Kuwait's market? I mean, let's face it, Kuwait loves to play Monopoly. But, wait, this gets tragically better. Turns out, ALL members of Galaxy Juice are Kuwaiti citizens, all working government jobs and in essence, these Kuwaiti artists made a project in Kuwait, and tried to promote it, also in Kuwait, by giving it away, and couldn't. In their own hometown, they couldn't. I wondered if maybe their music had been more "Kuwaiti", if that would've cut the number of hoops they would've had to jump through; that their music being difficult to categorize made it so it required all that extra screening. And so I investigated.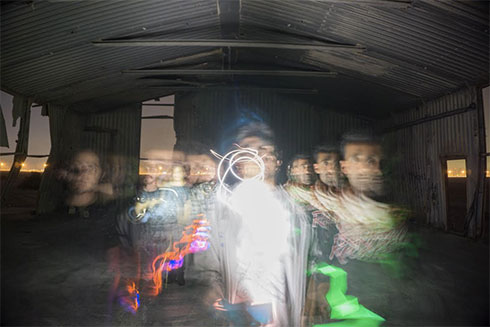 Band Members
Salem Al Salem – Lead Vocals, Guitar (Job-Accountant)
Mohammad Al Owaisi – Drums, synthesizers (Job-Mechanical Engineer)
Abdula Asem: Bass (Job-Marine Biologist)
Bader Al Salem: Drum machines, Sampler
In listening to their work, I found many elements of Kuwaiti music – an alternative rock vibe that seamlessly goes into a rhythm, or a clap, or a scale which would immediately be recognized as Arabic, or even specifically Kuwaiti. In their live show from last spring of this year at Shaheed park, they stopped mid-song to go into a full on traditional Kuwaiti clapping session, Sharbeka. So, clearly, their work is a fusion, but what I'm more interested in is, are they innovating? Are they on the brink of innovation? That begs the question, when does one know when a band is doing Kuwaiti Rock? Or, Arab Rock? When or where are the lines? Do these lines exist? Or is it up to us to create them? Listen to it and tell me what you think. You could be thinking, well, Amin, Rock is Rock. My answer to that is, there was a time when there was American Rock n' Roll, and British Rock n' Roll, and although distinct in their sound, they were still considered Rock n' Roll. It's not like British Rock had distinct British hymns or maritime stories incorporated in it, it just had a different take on an American Rock n' Roll. Over time, and with the gaining popularity of the likes of The Beatles and The Rolling Stones, British and American Rock n' Roll meshed into one. But, there was a time when there was a division, and it was a division by geographical location. So, back to Kuwait and the possibility of music innovation, how would we recognize it? How would we recognize the emergence of Kuwaiti Rock? If it's even possible. I know that in this coming season, many artists will be experimenting with Arabic, even Kuwaiti elements in their music, and the lines are going to start to get even more blurry. Do we call it "Kuwaiti Pop Music"? But it's not. Do we call it "Kuwaiti Urban Music"? What are the rules? I'm sure an Ethnomusicologist could answer this quite simply, but I think we're at a time where the lines are already blurry for artists trying to incorporate some of their roots into their work. Here is a specific part of Crystal Dunes where you can see a clear integration.
When I listen to Galaxy Juice it makes me think; are they making music for our time? There album is called Timenesia, and is somehow of the past, the future, of here and of other places. It's like they're this Rock group, experimenting with music of somewhere that is not of here, almost like they're playing for outer space. With a name like Galaxy Juice, it all makes sense.
Follow them on Instagram: @galaxyjuiceband
Peace, Love and Music
Post by Amin FARI
Are you a musician looking to perform? On the flipside, are you a host looking for musicians to book? Or maybe you've just got an awesome idea you'd like to share? Get in touch [email protected] / Instagram: @xxmrfarixx