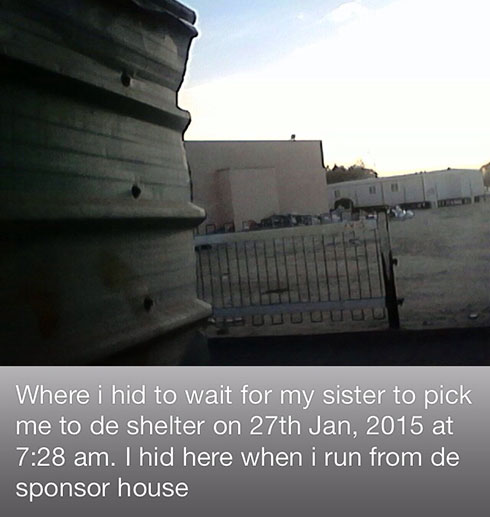 I would like to thank Mark again for giving me the opportunity to write here, and I know I don't write as often as I should, but I thought it was very important to share with you what has been taking place behind the scenes of the blog.
I get a lot of emails on a daily basis from people who find my posts while searching for help online. The majority of the emails I get are from expats being mistreated in Kuwait, from CEO's to blue-collar workers, they all seems to have issues but the worst off are the domestic workers. With that said, there is also a lot of humanitarian work and compassionate people in Kuwait and that in itself makes me very proud to be Kuwaiti.
I want to share with you a story of a domestic worker in Kuwait, how she came here, what happened and how she escaped. Most importantly though, I want to share what we can learn from her experience and how we can make Kuwait a better place.
The lovely woman is from an African country and I will give her the name Malika to respect her privacy. She wanted to move to the Arab world for better opportunity, so she started applying for jobs online. A few weeks later she got offered a job position to work as a supervisor and was promised a lucrative salary of 800 USD – 1,200 USD.
Her agent told her that she would meet her boss at the airport but when she arrived to Kuwait she was shocked to hear she was going to work as a maid.
"We were all taken to a room once we arrived at the Kuwait airport, many girls from many countries, some from Philippines, some from Nepal and many other Asian countries. Young girls even, some as young as 16 or 17, some thinking they were going to work as beauticians, but from my experience we were all there to work as maids".
The girls waited in the room for hours at end, without water, food or any money, as their possessions were taken away. A woman then came and took them to an office where each girl had to wait for her employer to come and pick them up. Malika's employer came and picked her up from the office and as soon as she got in the car with her new family, they asked her "Do you have a phone on you? You're not allowed to have a phone, if you need to call someone, you need permission and you need to use the house phone". So Malika quickly hid her phone on her.
She describes the house as being busy with a big family of 7 kids living there, she was shocked to see the situation as her agent had told her that she was going to be a supervising maid at the house and only be working from 7am-4pm, she described to me her feelings;
"The first night I couldn't sleep, because I was crying and crying, I had a phone but no SIM card or money, so I used the phone to search the internet (wifi). I was so depressed working all day, from cooking to cleaning, the work was so much"
She told her employer that she wanted to leave, her employer responded to Malika that if she wanted to leave she had to pay 700 KD. So after some online searching she found her countries embassy's number that was located in another GCC country. She used a VOIP app to contact them, they didn't help her though, so she kept on searching online.
She kept fainting at work because the workload was inhumane, and her employer did not bother to take her to the hospital but instead took her to the agency and said that she wanted her money back. She accused Malika of being weak and lazy because she was fainting. The agency ended up beating her. But by going to the agency she found out that her sister and her sister's friend had come to Kuwait as well, they were told that they would each work here as a nanny and as a waitress.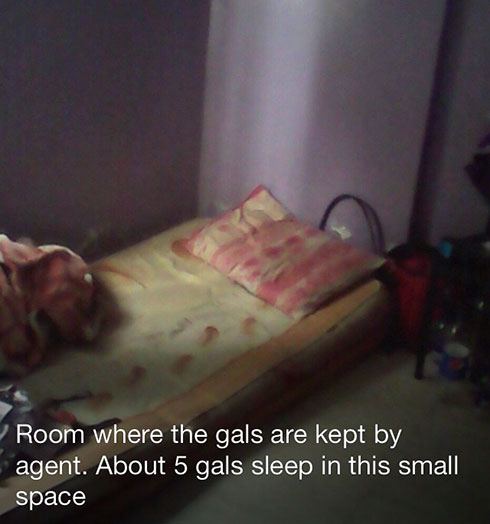 She was then taken back home by the employer, and she kept searching online for help when she found one of my posts on Marks blog's. She said "I found out that I have rights and that I can leave. So I sent an email and I was so happy when I got an email back." When I received her email, I assessed the situation and realized that the best person to help her would be Bibi Nasser Al Sabah from the Social Work Society of Kuwait, who have been aiding many workers in Kuwait over the past few years and I must say are making a huge difference in the lives of many here.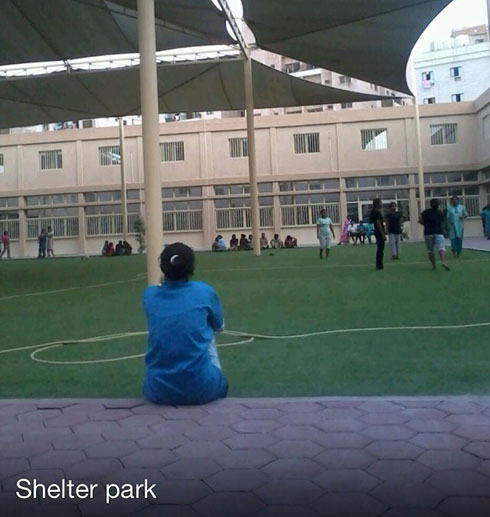 Bibi told Malika about her rights as an employee in Kuwait as well as the rights of her sister and her sisters friend who she was able to get in touch with. Bibi also told her there was a shelter available for them so all three ended up running away from their houses to the shelter. When they arrived to the shelter, Malika was searched and her possessions were taken away except for her clothes (thanks to Malika, the policy has now changed and the ladies at the shelter are allowed to keep their possessions). On Fridays, calls are allowed to be made from the shelter for 1 KD. One of the ladies at the shelter managed to sneak in her phone, Bibi transferred 20 KD for them and the ladies started contacting Bibi till she got them tickets and passports to get back home. They were there for around a month except for her sister who had to stay longer because she had a case against her that turned out to be fake accusations.
Malika says that being in Kuwait was one of the worst experiences in her life, she says that she has domestic workers at home and she treats them with respect and she would never treat anyone like this. She also told me something important;
"I don't want to judge Arabs, even though I kept hearing mean stories at the shelter from the girls. I can't judge because Bibi is Arab, so is Fajer, and so was the driver that helped me from the shelter to the airport. They were all so nice."
Malika was lucky that she spoke fluent English, had internet access and was tech savvy that she was able to reach us at the blog. She is also a very smart lady that understands that issues need to be spoken about. Because of Malika the Social Work Society of Kuwait were able to help 24 other women at the shelter who Malika put us in touch with. I hope that we can learn from her experience and realize that yes there are really corrupt people in Kuwait but there are also a lot of passionate people like Bibi. We bring these topics up because we want to see change and I am positive that one day, Kuwait will be a better place.
Feel free to email me [email protected] with any legal questions. I do not have the capacity to answer everyone for free (but I try), and I am happy to annanounce that I am currently working with a great team and therefore we are able to reply back to all emails with a reasonable time frame.
Post by Fajer Ahmed – Legal Counsel
The legal opinions expressed in this post are those of the author Fajer. Opinions expressed by Mark or any other writer on mark248am1.wpenginepowered.com are those of the individual's and in no way reflect Fajer's opinion.