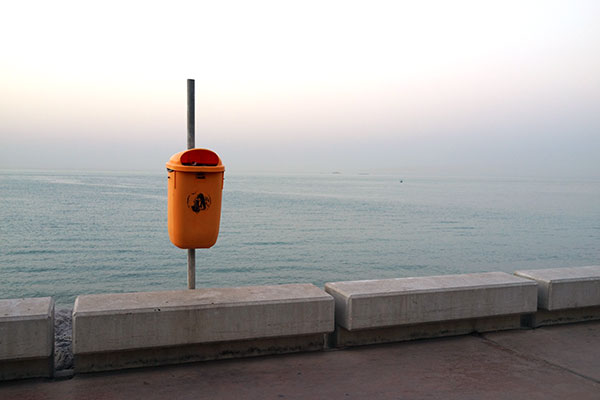 It's hard to write this post without expressing my emotions which are mostly composed of anger and lot of frustration, but I'll try my best to be as neutral and professional as possible. Yesterday when I went to take photos of the bike sharing station near Marina Waves, I was caught off guard by what has to be the dumbest fucking decision ever an idea with good intentions, but poor execution.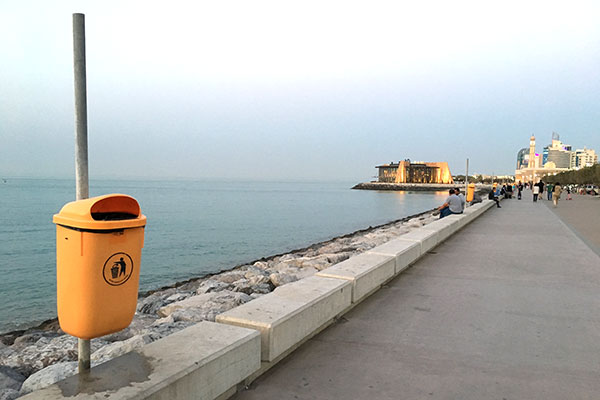 Who thought it would be a great fucking idea to plaster bright orange garbage bins at eye level every 10 fucking meters on the side facing the sea???!. Now I am aware of the garbage situation in Kuwait and specifically Salmiya, I've written about it a number of times on the blog before, but I do believe this idea could have been executed better. I guess people have been throwing garbage on the floor so someone (I'm assuming at the municipality) decided to add more garbage bins all across the beautiful scenic path near Marina Waves. The issue is, the garbage bins are bright fucking orange, raised up to eye level, and most importantly, they're placed every 10 meters on the side of the path that is closest to the sea.
The pathway is popular because the view there is spectacular. It's a popular location for photos and its one of the most beautiful aspects of Kuwait along with the whole Gulf Road. So why ruin this amazing view by sticking bright fucking orange bins so high up on ugly poles? Why couldn't they add more bins, but ones that blended in with the environment better instead of sticking out like a sore thumb? For the benefit of the doubt, lets assume they had a very limited budget to work with, and these cheap plastic bins were the only ones that fit into their budget. Why couldn't they place them on the other side of the path so that the sea view isn't blocked by hundreds of these floating orange bins? Whoever is behind this I am guessing was behind a similar stupid idea in Salmiya a few years ago where they plastered yellow bins every 10 meters on the side of Salem Mubarek Street. That idea failed because it was fucking stupid not well thought out, and these orange ideas aren't a good solution either.
Also, do people who litter do so because the garbage bin is to far, or do they litter because they don't know any better and just don't care? My guess is the later, the below is taken from the City of Chicago website:
Why Do People Litter?
People litter because they do not feel responsible for public areas like streets and parks. The more they litter, the more it becomes a habit, and the worse the community looks. People usually litter outside their own neighborhood where their trash becomes someone else's problem.
I highly doubt these garbage bins are going to stop people from littering, what we need is probably an awareness campaign that educates the public on why they shouldn't litter, followed by strict enforcement of the littering law (which I believe we have).