Kuwait is participating at the 2016 Venice Architecture Biennale which is the largest architecture show in the world. The Kuwait Pavilion is called 'Between East & West: A Gulf'.
I had seen photos of the Kuwait Pavilion exhibit over the summer but didn't post about it since I had difficulty understanding the exhibit myself and so would have trouble writing about it. But one of the architects involved in the project recently sent me the video above which made things a lot clearer so I decided to share it on my blog. If you can't hear the audio in the video because you're at work, here is the project description from their website:
Hundreds of islands dot the waters between the Arabian and Persian shores. An afterthought in the political maneuverings of their respective coasts, these islands tell an alternative narrative to the one which drives conceptions of the region. They represent a possibility greater than spaces of political contestation and hesitant demarcation. These islands are the sites of identity in formation, places of experimentation and architectural invention. Their historical roles were as varied as places of leisure, spirituality, planning, war, exile, and health. The island is an entity both isolated but also crucially connected through the waters of the Gulf, and thus not an exception to the national but the rule which defines it.

This year's Kuwaiti pavilion looks beyond the shores of the country and argues in favor of a masterplan for a united Gulf. By presenting the untold history of the region and proposing an alternate future, the pavilion casts the hydrography as a singular entity of neither East nor West, but as an untapped archipelago which defined the region and offers the greatest possibility for its reconciliation.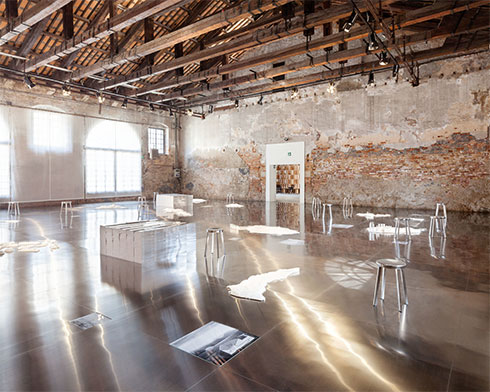 What is unique about this exhibit is that it was conceived and executed by a fairly small and young team of architecture students and recent graduates. Here is a list of everyone that was involved and you can find their full bio on the pavilion website:
Commissioners: Zahra Ali Baba – National Council for Culture Arts and Letters / Kuwait (NCCAL)
Curators: Hamed Bukhamseen, Ali Karimi
Art Director / Graphic Designer: Fahad Alhunaif
Publication Coordinator / Editor: Muneerah Alrabe
Project Designers and Research Architects: Saphiya Abu Almaati, Shahab Albahar, Mai Albusairi, Nada Alqallaf, Rawan Alsaffar, Yousef Awaad Hussein
Financial Team: Mohammed Al Ajmi, Mohammed Al Jameel
Administrative Team: Abdullah Albeeshi (Head of team), Noora Al Musallam, Jaber Al Qallaf, Jassim Al Shamali.
The 2016 Venice Architecture Biennale opened up this past May and is running until November 27th. For more information and photos on the project, check out the Kuwait Pavilion website [Here]