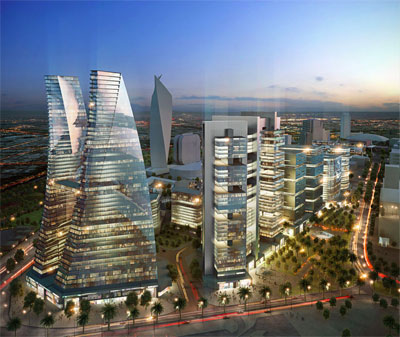 Gulf Consult in association with Atkins were engaged to develop a comprehensive detailed Local Plan for Kuwait City entitled 'Kuwait City Urban Development 2030'. The Plan is to guide development for Kuwait City over the next 20 years to affirm its role as a national/international, financial/business and commercial centre.

Kuwait City is strategically located at the northern peak of the Metropolitan Area overlooking Kuwait Bay, surrounded by the sea to the north east and the 1st Ring Road to the south west. It covers an area of 1,200 hectares and is well connected to the rest of Kuwait through a series of arterial roads that transverse the 1st Ring Road.

The Local Plan proposes that the new development in the city be concentrated in four Action Areas: Sawaber; Mirqab West; Mirqab East and Qibla Commercial Area 1 and 2. The main development premise for these areas is to create mixed use sustainable developments which introduce new land uses into the city.

Also integral to the Plan is the integration of a Park and Open Space Strategy; Transport Strategy; and Utility upgrades and additions.

The Project was completed in six phases: Data Collection and Analysis; Detailed Planning and Traffic Studies; Planning Alternatives for Kuwait City; Detailed Local Plan; Detailed Zoning and Subdivision Plans; and Final Plans and Documents.
The area in question is around Al Tijaria Tower, opposite Al Shaheed Park. It's currently occupied by old warehouses, an abandoned hospital, a grave yard, garages and tons of stores selling metal pots. The renderings look pretty but since this was just a study, we shouldn't get our hopes up. More renderings and info [Here]