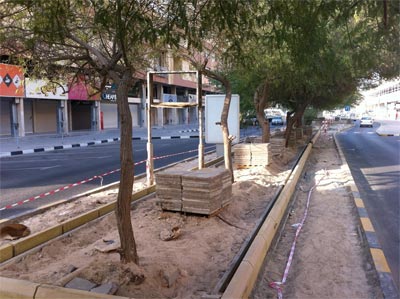 The past two weeks they've been digging up the street in front of my house in Salmiya (the old shopping street in Salem al Mubarek street). At first I thought they were actually reducing the size of the middle sidewalk to add more parking spots which pissed me off since I walk my dog there every morning. Then yesterday I spoke to one of the workers and he told me that wasn't the plan, it turns out they're going to be planting the middle sidewalk like how it is on the Gulf Road.
Usually this would be a good thing. Who wouldn't want to live on a green street? I usually would be all pro for going green but not in this case. The street is currently just one big garbage bin. It's completely ignored, no one is taking care of it. The streets are crumbling, most of the buildings are getting ready to be demolished, there is trash everywhere, not enough garbage bins and there is a street fight practically on a daily basis because of this billiard place next to my house. A month or two ago while walking my dog at 8AM I heard a lot of shouting and screaming. When I got closer I noticed two gangs throwing rocks at each other. One group of guys looked like Emo's, they were standing across the street yelling and throwing rocks at another group of tubby guys standing on the other side of the street screaming back. There was a shop with a broken window because it got hit by a flying brick. This was at 8 in the morning!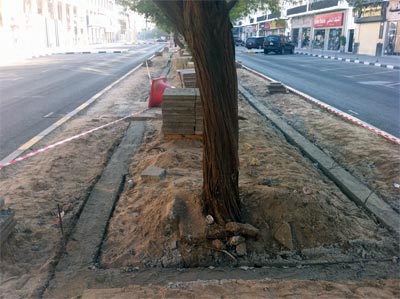 I've lived in the exact same spot now for over 30 years and I've seen it turn from a trendy high end street to the dump it is now. If you check the archives you'll find a number of posts (Here is one) where I've asked to be put in charge of the area so I could bring it back to life (Here is another). Currently I spend my mornings picking up broken bottles and pieces of glass so that my dog doesn't end up getting cut. No one ever cleans up the garbage and everyone seems more than happen to just throw everything onto the floor. I'm lucky that the care taker of the building next to mine cleans up the alleyway between our two buildings or else it would just be a garbage dump.
So the idea that they're planting grass in the middle of the sidewalk in what currently is a half deserted shopping street full of garbage just doesn't make any sense. Whats going to happen is you'll have all this greenery with white tissue papers and chips bags dangling off them like decorations. Instead of going green, can we go clean instead? Can someone please put me in charge of Salem Mubarek Street?