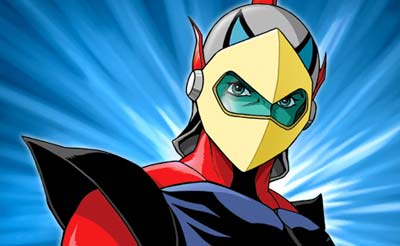 The creator of Grendizer will be holding a lecture this month here in Kuwait. I found the following on the blog electronish:
Go Nagai, is a Japanese manga artist and a prolific author of science fiction, fantasy and horror. He made his professional debut in 1967 with Meakashi Polikichi, but is best known for creating the seminal works UFO Grendizer, Cutie Honey and Mazinger Z in the 1970's."

Mr. Go Nagai will visit the middle east in October, he will be visiting Jordan, Kuwait and Egypt!! I'm glad to be nominated to be one of the coordination team members for this event. The event will be held on two days the 10th and the 11th of Oct. '09. The 10th will be exclusive for VIP "LIMITED SEATS", to have the opportunity in attending the VIP event you should register with Mr. Wael Abdulsamad 'cos you need to pass a certain contest/draw managed by him under the supervision of the Embassy of Japan. For the second day, 11th of Oct., the event will be for PUBLIC, everyone can attend. So you don't have to contact Mr. Wael Abdulsamad for a registration to attend the second event. However, the attendance will be taken in a FIRST-COME-FIRST-SERVED basis, the capacity of the hall will be approximately 330-350. Anyhow, more details will be announced during Aug. and Sep., so if you're really concerned just contact The Embassy of Japan in Kuwait or email Mr. Wael Abdulsamad ([email protected]) for further information.

Special thanks to the Embassy of Japan in Kuwait for hosting this event and for the opportunity in meeting Mr. Go Nagai in JAPAN KUWAIT!