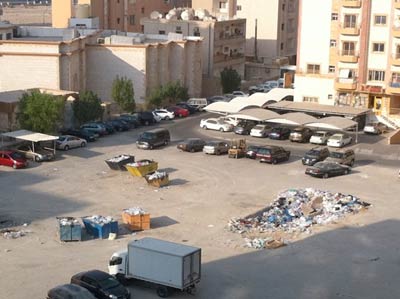 I am 100% sure this can't be legal or healthy. I live in Salmiya in the old souk on Salem Mubarek Street. Right behind my building there is an empty sand lot which is used as a parking by people coming to shop in the street. The sand lot is also used as garbage dump. It has around 7 regular sized garbage cans… and one big hole in the ground.
A hole in the ground! For some reason it seems the local baladiya or whoever is responsible for garbage collection can't afford new garbage bins or something and have decided instead to dig a big hole in the ground and fill it up with garbage. Every morning a bulldozer comes and digs up the garbage.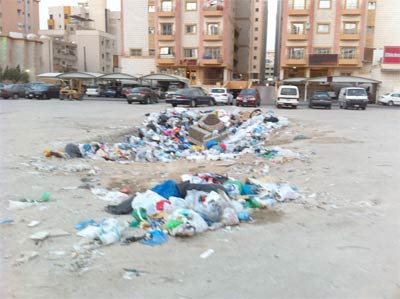 Why can't they place a large garbage bin or two or three more regular sized ones instead of digging a hole?
First of all the lot is heavily surrounded by residential buildings. Second of all there is a mosque just 20 meters away from the hole. Finally people use the lot as a parking lot. Salmiya is over crowded and lacks ample parking and people are forced to park in the sandy lot filled with garbage. At night the lot is pitch black since there isn't any kind of lighting and people end up parking right next to all the garbage bins and holes. That can't be healthy.
Hopefully by me posting about this maybe something can be done about this. It's just too disgusting, I mean it's a frickin hole in the ground that's being filled with garbage!